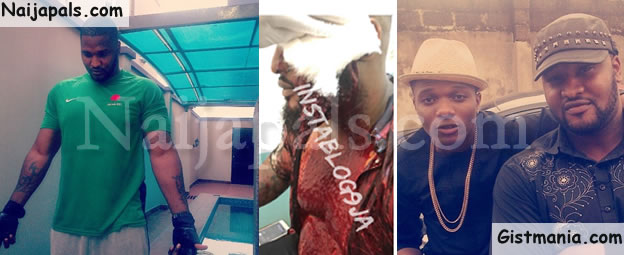 Club DNA has reacted to our exclusive report on the recent attack on Wizkid's bodyguard, Roy Emmanuel, at the club, on Thursday, 15th of November, 2018, as we obtain a new video of what happened, shortly before the machete attack.

We had reported that Roy narrowly escaped being hacked to death while defending his boss, Wizkid, over the money he is owing the club. .

However, the club, in a statement, said the attack was over an issue of indiscipline between the bodyguard and an M.C that works with the club.

While confirming that Wizkid is, indeed, owing the club, DNA insists that Roy wasn't attacked because of it, but rather, in self defense. .

The new video we just obtained, shows the duo fighting prior to Roy being macheted by the M.C, in what the club termed self defense.



Below is our initial report: .
"We, exclusively, gathered that Roy was at club DNA, when the owners of the club started arguing with him that Wizkid didn't buy the Lamborghini Urus he, recently, posted via his Instagram story.

Their claim was that he is owing the club millions of Naira for drinks bought on credit, and so, buying such car doesn't make sense, but Roy defended his boss, saying he will clear his debts once he returns to the country.

However, when the bodyguard stepped out of the club, he was deeply macheted on the face by the club's M.C, who is currently on the run.

Roy was later seen talking with one of the owners of the club, shortly before being rushed to an undisclosed hospital, where he is currently recuperating." ..
Published at:
08:48 PM, 18/11/2018 (3 months ago)
Author:

Mister Jay Wonder
Problem with this article? Please email reporter[at]naijapals[dot]com or visit our contact page
---