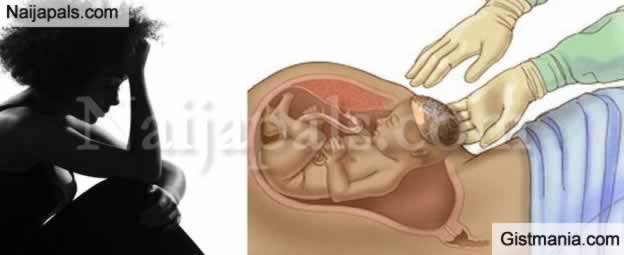 A Nigerian woman has been accused of adultery by her husbands' family, because she had her last child by cesarean section, CS. This was made known on popular social media, Twitter by Yinka Ogunnubi, who narrated how the woman is being forced to undergo some cleansing rites because she underwent, CS, which they count as adultery. See what Yinka Ogunnubi wrote below;

A woman is currently being accused of Adultery by her husband's family because she had her last child by Caserian birth. They say that by their custom, a CS birth is evidence of adultery by the woman and the only remedy is to go to the village (in Delta) to perform some rites.

The husband took sides with his family and insisted she perform the rites against her wishes and Christian faith. All efforts to have the family reconsider has been unsuccessful. Fearing for her life (especially since she lives in the family house), she fled for safety.

I don't know if this is a custom in the area or just the demand of a secret cult, but why should a woman be accused of adultery because she did a CS procedure? What silly custom assumes a woman committed adultery because she had complications from child birth necessitating a CS?

Apart from the issue of faith, there's also the issue of culpability. Agreeing to go for the rites is an indirect admission of guilt. God knows what else they'll demand of her. A DNA test was suggested to prove paternity, but the family has ruled out mediation until after d rites

Has anyone heard of this before? What are her options and remedies seeing that her husband has sided with his family? Should she end the marriage and file for custody of her kids? Please Advice!
---
Posted: at 22-11-2018 12:54 PM (2 years ago) | Hero