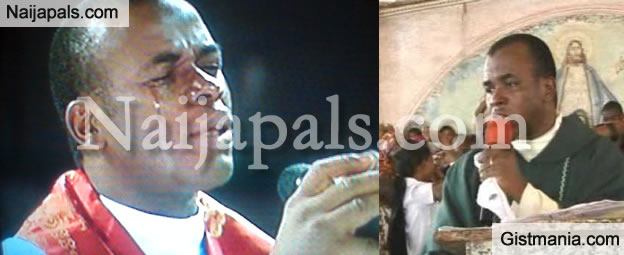 Popular Enugu Catholic Priest, Father Mbaka, has said the President Muhamamdu Buhari might suffer defeat in 2019 election as he also blasted Peter Obi and Atiku Abubakar. While speaking during the 2018 harvest and bazaar celebration at his Adoration Ground in Emene Enugu on Sunday, Rev. Fr. Ejike Mbaka, predicted doom's day for President Muhammadu Buhari and Alhaji Abubakar Atiku, saying that none of them would win, without mentioning the eventual winner.

According to Vanguard, the fiery Catholic Priest and the Spiritual Director of the Adoration Catholic Prayer Ministry Enugu, said it was bad and scandalous before the Holy Spirit that after their prayers on Adoration altar made Buhari the President, he had refused to come and do a project for his ministry as a way of thanking God.

Angry Mbaka further narrated how his ministry's prayers saved Buhari from deadly sickness in 2015 and said anybody with Buhari's ears should warn him that no one cheats God, that after he thinks he is healthy, his sickness may come in another form.



Speaking on Alhaji Abubakar Atiku, Fr. Mbaka said that if he continued on the same trajectory, he and his running mate would end in shame.

Mbaka who spoke in Igbo, said:

Quote

"Ask Atiku if it is these steps that the cow will take to reach Umuahia."

Mbaka requested that Atiku should reach out to Igbo leaders like Hon. Ike Ekweremadu and also come personally to adoration ground and do a project for them.

He berated Atiku's running mate, Peter Obi. Though he said they had always supported Obi, he stated that Obi had not done anything for his church. He said God would bless Governor Dave Umahi of Ebonyi State and Ifeanyi Ugwuanyi of Enugu State and grant them second term for what they had done for him.

Fr. Mbaka curiously withheld Obi's blessing and said he would only release it after Obi had done a project for them. Using Umahi as an example, Mbaka said:

Quote

"Umahi donated 1,000 bags of rice and 1,000 tubers of yam to us, but it meant nothing to me until he handed N10 million cheque to me and promised to build a project for the ministry. This is the type of gesture we require from Obi",

he said.

While acknowledging the donation of N500,000 from Obi as his money for breaking of kola nut, he said "stinginess is not a virtue."

In his own remarks, the representative of President Buhari, Sen. Hope Uzodinma was warmly embraced the moment he announced N2million for break kola nut by Buhari and the announcement that Buhari will build a hospital in adoration ground for him.

The elated Mbaka said that such was the type of gesture he needed from Buhari.

Responding to Hope Uzodinma's donation of N20 million to him, he said

Quote

"Uzodimna would become the next governor by the grace of God."



On Imo State and Abia State, he said the case of the two state's were beyond redemption and that the two states were possessed by the devil and needed to be exorcised.
---
Posted: at 3-12-2018 02:58 PM (2 years ago) | Hero