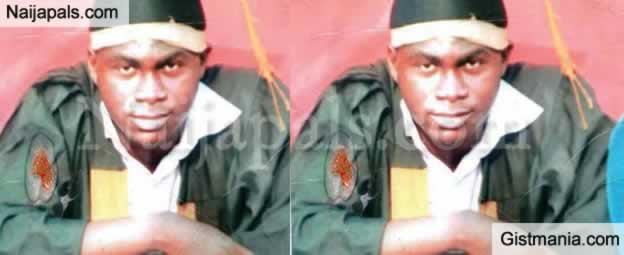 The heartbreaking story has been told of the young final year student who was killed just three months to his graduation. The Zone 9 Command of the Nigeria Police, Umuahia, Abia State, is currently working round the clock to unravel the mystery surrounding the brutal murder of Emmanuel Alozie Njoku, from Umuchokoeze, Amaisii Uvuru, in Abo Mbaise Local Government Area of Imo State.

The 26-year-old Alozie, who would have clocked 27 on December 9, was a final-year student of Cooperative Economics at the Federal Polytechnic, Nekede, Imo State. He was also a student of the Institute of Chartered Accountants of Nigeria (ICAN). He was a hardworking student who engaged in other extracurricular activities like commercial motorcycle business as well as manual labour at building sites to support his education.

The incident that ended his life's dream and ambition happened on May 19, 2018, three months to his graduation from school. In a tear-soaked and emotion-laden account, his elder sister, Ada Njoku, recounted that, on that fateful day, he returned from where he went to collect money for a job he did for some people the previous day. She said he returned to meet his elder brother's wife and demanded food.



Quote

"The woman told him that food was ready but that she was preparing to go out. So, he asked her to dish his food since she said she was going out, while he had his rest before eating. According to my brother's wife, Alozie had a telephone conversation with somebody who probably gave him some money to keep for him. The person wanted him to bring the money to him at a particular place, but he told the person that there was no fuel in his motorcycle. The person then told him not to bother himself.




Sudden disappearance

Ada said:

Quote

"My brother's wife then left him to take her bath, as she was preparing to leave the house for her husband's shop. When she returned from the bathroom, everywhere was open and Alozie was nowhere to be found, but his motorcycle was parked outside. She said she called him and he answered from the direction of our uncle's house, where they normally go to receive fresh air when the weather is too hot. She thought he had gone there to relax as usual; so, she served his food and left for her husband's shop, with the belief that he would come back after resting there to eat his food. She also left everywhere open with the expectation that Alozie was around. That was around 3pm."



The brother's wife was shocked when she returned at about 7:30 pm to discover that everywhere was still open. She got more confused when she got inside to discover that the food she dished for Alozie remained untouched, while the motorcycle was still parked where it was when she was leaving the house that afternoon.



Quote

"After a while, Alozie's phone rang; that was when they realised that he did not go with his phone. She didn't pick the call, but when the phone kept ringing, her husband, who had returned home from the day's business at the time, picked the call and it was the person that gave him money to keep for him. The man was even wondering why Alozie had not picked his calls.

He said he was calling to know whether he could come to pick the money. We told him that we even thought Alozie was in his house,"

she said.

Search party launched

With the latest development, it became clear that there was danger: "We started searching for him from that fateful Saturday. On Tuesday, our last born was sent to school to know if he had gone back to school, even though we knew he could not have gone back to school without his motorcycle. He went to his school and came back without Alozie."

Alozie's body found

Three months into the search, the deceased's decomposing body was found in a bush behind their uncle's house.

Ada said:

Quote

"On Monday, August 27, a woman in our compound went to the bush at the back of our uncle's house to hew fire wood and discovered a decomposing human body. She raised the alarm and when members of the community gathered, it was identified to be Alozie, my brother. His body had already decomposed, leaving only the bones; he was identified with the clothes he wore.





Quote

"After the discovery, my uncle went to the village chief security officer and both of them met with the king. We don't know the outcome of their meeting, they only told my brother that they had consulted with the chief security officer and the king; as well as with the police. My uncle even took my brother to meet with the chief security officer and they reminded my brother that he didn't report to the police when the incident happened. They told him that, since he didn't report when it happened, he can't report now that the body had been found. They told him the best thing was to bury Alozie. My brother insisted that, going by the fact that Alozie was found at the backyard of our uncle, some explanations were required. He suggested that the villagers collectively find out what killed Alozie.





Quote

"Then, the next day, which was Tuesday, August 28, the village chief security officer said he had consulted with the Divisional Police Officer (DPO), in our area, who said, since our family did not want to continue with the matter, we should bring N200,000 to close the case completely. That was what he said the DPO told him. That same Tuesday, one of my uncle's sons came home and promised to provide the money, so that the case would be closed. He later transferred N200,000 to his younger brother's account. My brother asked them if they would still go ahead to find out the cause of Alozie's death after the police had been settled and the case closed.

"Eventually, they brought a paper and forced my brother to sign it. He didn't even know the content of the document, but at the end of the day, it was found out that the content of the document was that my family was no longer interested in pursuing the case. They put pressure on my brother to sign it. They even threatened that he would die in the cell if he failed to sign the document, since he had nobody to fight for him. After he signed the document, they put it in an envelope that contained the N200,000 and handed the envelope over to the chief security officer. They did not allow my brother to go with them to the police station where the money was allegedly handed over to the police. So, my brother could not say if they went to the police station, and if the money was actually given to the police, but they made him understand that they were going to the police station to hand over the money to the police so that the case would be closed once and for all."



Pressure to bury the dead

Ada stated that, after the purported closure of the matter at the police station, the pressure was on their elder brother to bury Alozie and that was when she was contacted.

She said:

Quote

"I gave the instruction that he should not be buried until I returned home. So, when I came back, I went to the king's palace, and met people from my maternal home, who were livid with anger. The king told them that Alozie's family said they didn't want any case. He prevailed on them to accept the decision of Alozie's family and bury him, so that peace would reign. At that point, I stood up and told the king that considering the way my parents died, I would prefer if the cause of Alozie's death was found because we don't know who would be the next. The king asked me what I think would happen if, after police had arrested people in the community, it turns out that none of them had a hand in his death. I told him that there was nothing wrong in allowing the police to investigate the matter, after which everybody who is innocent would be set free. But, he insisted that I should comply with the earlier decision of the people from my maternal home to bury my brother and let peace reign."



Community's intervention

However, the community eventually decided to investigate the cause of Alozie's death. That communal decision, according to her, did not go down well with her uncle, who complained that her brother had reported him to the community.

According to Ada,

Quote

"On September 4, my community said they would intervene to find out the cause of my brother's death. That same day, I went to Zone 9 Police Command, Umuahia, Abia State, alongside my brother, with a petition. When we returned, my brother was told that a certain woman came to look for him. She dropped a message for my brother that the king would like to see him. The next day, my brother went to the king's palace and he asked him why he involved the Amaisii community in the matter after he had asked him to bury his brother. My brother told him that it was Amaisii people who decided to investigate the cause of my late brother's death. He then asked my brother what he wanted and he told him that he just wanted to know how his brother was killed. My uncle got angry when he heard the decision of the community. He went about telling people that my brother reported him to the Amaisii people.





Quote

"The people did the traditional investigation but did not come up with any tangible result. They told us that they were told the person who murdered my brother was somebody he had a quarrel with. So, the community came back with the conclusion that the soothsayer could not tell them who my brother's killer was."



Police involvement

Ada stated that, with her petition, the police swung into action, and the investigation is ongoing:

Quote

"The day I took a petition to Zone 9, they asked me who I was suspecting. I told them I don't know who killed my brother but I was suspecting two families because of their actions. They asked me the families and I told them I was suspecting one man who earlier quarrelled with Alozie and threatened to kill him."



She stated that the police had made a couple of arrests and are still digging to unravel the masterminds of Alozie's brutal murder: "I learnt that one Chibuike who was invited by the police and later detained has been released since November 28.

I learnt that somebody gave his mother N300,000 to bail him and hire the services of a lawyer to prosecute the case."

The puzzle

The question on people's lips is: How come the body of a man who went missing for three months was found behind the home of his uncle who was part of the search? Others are wondering how a dead body found decomposed did not ooze stench for three months to attract people. They are raising the second question because a dead body would first get bloated and then burst. And certainly, it would smell.

In the case of Alozie, nobody perceived any foul smell until his decomposed body was found in the bush by a woman looking for firewood.

Family's plea



Quote

"All we want is to know the person(s) behind the brutal murder of our brother and for whoever that is involved in the wicked act to face the full wrath of the law. Let the law take its full course. We are calling the human rights community to rise up and ensure that justice is served in this matter,"

Ada said.

Reactions from the community

The chief security officer of the community denies ever saying that the police asked for N200,000 to close the case. He also denied ever collecting N200,000 to give to the police to close the case, describing the allegation as false.

The police position

When contacted, the Police Public Relations Officer, Zone 9, Umuahia, Egwu Chukwu Janet, confirmed that the command was investigating the case. She said the body of the deceased had decomposed when it was discovered and that police used a sack to pack his remains.

She also confirmed that the police had made some arrest but, during interrogation, the crime could not be linked to any of the suspects. She added that since there was no strong evidence linking the arrested persons to the murder, they could not be paraded because it would be wrong to parade the wrong suspects.

Said Egwu:

Quote

"The efforts the police have made so far is to write to the network provider to give them the call record of the deceased and other people who might have possibly called the deceased out to kill him. This is because the information from the deceased's sister is that he went out to answer a call from some people and they didn't see him again, only to discover his corpse in a nearby bush.

"The story is not good at all but the police are trying as much as they can to lay hands on the perpetrators of the crime, while waiting for response from Abuja concerning the audio record of his conversations."
---