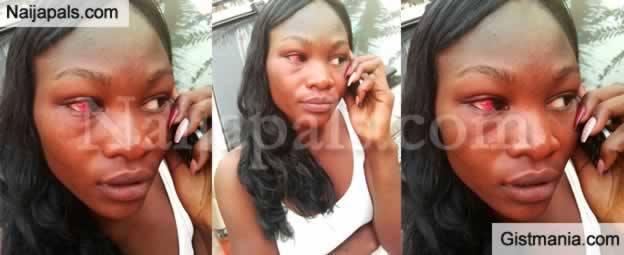 A young lady has recounted her armed robbery experience in Onitsha, saying that she lost all the things she worked hard for during the incident in Onitsha. A Facebook user identified as Ochuba Chisom Lois, has taken to the social networking platform to narrate how she was robbed inside a bus she had boarded in Sea Man Filling Station going to Upper Iweka in Onitsha, Anambra state.

The young lady said she was robbed alongside other passengers inside the bus, noting that a gun was pointed at her head while a deep voice fellow told them to cooperate and turn in everything they have on them.

She revealed that after she dropped everything she had, a man came up to her to search her body if she was hiding anything, adding that while she was trying to tell the thief that she had nothing else on her, he slapped her face three times.

Speaking further, she said the robbers pushed the passengers out after they were satisfied with everything they stole, and advised people to ignore any call from her line, noting that she lost everything she had worked hard for including her phone, money she made from selling tickets and her allowance.

Read her post below:


Quote

"The only thing that I can remember is "That Gun Being Pointed At My Head Inside The Bus With A Deep Voice That Said Just Cooperate With Us And Turn In EveryThing You're Holding Of Which We Quietly Did And After Which One Of The Robbers Started Touching Me To Confirm I Wasn't Hiding Any Other Thing And While I Tried Telling That Have Got Nothing Else On Me




Quote

My Phone, Money Gotten From The Tickets I Sold And My Allowance, After Which They Slowed Down And Pushed All Of Us Down From
The Bus
I Am Heart Broken.

I Have Never Experienced Robbery And At Gunpoint Too

Yesterday Was Actually A Black Saturday For Me.

Please Ignore Any Call From My Line For Cuz I Will Be Offline For Sometime.

Please Do Remember Me In Prayers. Thank You."



---