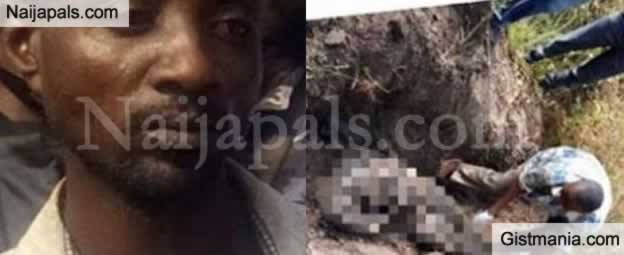 A heartless man who brutally murdered a police officer because he didn't want to repay him the money he was owing him has been arrested.

The Ogun Police Command yesterday paraded a leader of Tiv Community in Opeji, Odeda Local Government Area of the state, Jonathan Tsekar, for allegedly killing a police corporal, Gbenga Adeboyejo over N120,000. It was gathered that the suspect and the victim, who was attached to Odeda Divisional Police, were engaged in a charcoal business before the relationship turned sour.

The Commissioner of Police, Ahmed Illiyasu, yesterday led his men to exhume the corpse of the victim allegedly buried by the suspect in a shallow grave at Opeji village. Illiyasu who paraded the suspect before newsmen at the crime scene disclosed that he allegedly committed the murder on November 24, 2018.

According to him, the deceased was reported missing on December 1 by his father, Joseph Adeboyejo who lives in Ilorin, Kwara State. He, however, explained that the prime suspect was arrested alongside two others in connection with the alleged murder.


The CP quoted the community leader to have confessed that he killed the police corporal by "hitting a heavy plank on his head" in order not to refund the N120,000 he collected from the deceased.



Quote

"This is not only wicked and callous act but also a superlative degree of effrontery because the suspect knew very well the status of the deceased. The suspect will soon appear before a court of competent jurisdiction,"

Illiyasu vowed.

Speaking with news men, the suspect said he did not kill the policeman intentionally, adding that,

Quote

"He (deceased) complained that his goods arrived late and we started arguing. He struck me with wood and I also struck him with the wood. I didn't intend to kill him. When I realised he was dead, I dug a grave to bury him."
---