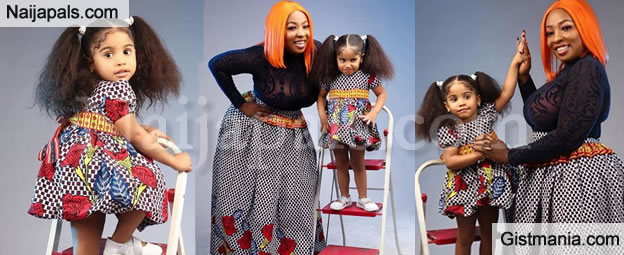 33-year old curvy actress, Anita Joseph has apparently admitted that she has a child which she kept away from public eye over the years.

The beautiful, curvaceous and talented actress, Anita Joseph rocks matching outfit with her daughter as they happily posed for photos.

There have been rumours over time that Anita Joseph initially got married before the union unfortunately crashed, but not before baring a daughter.

Singing the little girl's praises on her birthday, Anita Joseph who calls herself the 'Mother Hen' wrote:

"Happy Bornday to the most
Prettiest Charming Smart sweetest
Girl I know my Daughter
3years and counting
May Heaven bless you and shower
You with honeys and everything sweet
I love you my Forever (my Mother)
May you be blessed with life in
Aboundance in good health and wealth.my lalalicious. see natural human hair chai "


---