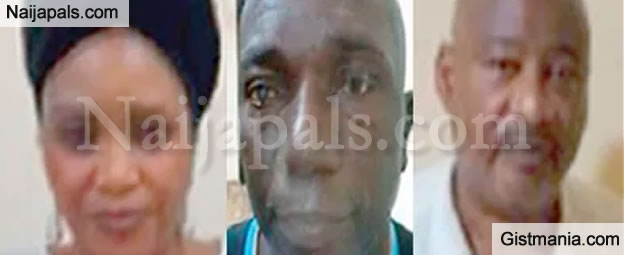 A United States of America-based Nigerian businesswoman, Mrs. Oluwatoyin Akinwole has narrated how an oil marketer and an Islamic cleric allegedly swindled her of N71million, leaked her Nood pictures on social media and reported she had committed suicide by jumping into Lagos lagoon.

Akinwole told an Ikeja Special Offences Court, Lagos at the weekend that the oil marketer, Adesanya Olufemi Adesanya and the Islamic cleric, Awojobi Ganiu, allegedly defrauded her of N71 million on the pretence of offering special prayer and investing the sum into a crude oil business.
According to the businesswoman who runs a boutique in Dallas, the two men after defrauding her in 2017, posted her Nood pictures, which they got from her phone, on social media and framed her suicide story simply to deter and frustrate her from coming after them.

Adesanya and Ganiu were arraigned by the Economic and Financial Crimes Commission (EFCC) on a four count charge bothering on stealing and obtaining money by false pretense.
Akinwole, in an emotion laden voice while narrating her ordeal, said: "These men assassinated my character. My father even suffered stroke after seeing my Nood pictures online. They deceived me into believing that I would get a 150 percent profit after a month of investment. They kept extorting money from me on the claims that the ports needed more money to perfect the transaction before releasing the oil. This made me borrow huge amounts from friends just to make the deal work."

While being led in evidence by the EFCC lawyer, S. O. Daji, the businesswoman, who narrated how she met the defendants, said: "I met the two defendants through a family friend, Sherifat Abiola Abdul, here in Texas, who introduced them to me."
She went on: "Sometimes in November 2016, Sherifat came to my boutique and told me that one alfa had seen a vision about me which involves death. She told me that I must do something in order to avert the bad incident.

"Sherifat told me that the alfa sees clearly and whatever he sees comes to pass. At first, I rebuked her and told her that I had just buried my younger sister on October 17, 2016 and will not bury any other person.
"Sherifat kept pestering me with the news that death was following me till January, 2017. After much persuasion, I agreed to talk to the alfa and she said she would call him to find out what to do. It was also during that time that she introduced me to Adesanya as her friend.

"Sometimes in March, Sherifat called me and said that the alfa needs to conduct some prayers for me which would cost N150, 000. I agreed but Adesanya called and said he would pay part of the money (exactly N100, 000) while I balance up.

"I thanked him and paid the balance. Three days after my friend called and said the alfa wants to pray for me on the phone. The alfa called and said a Muslim prayer and I replied Amen.

"This was how both men started calling me every day for prayers and business proposal. While the alfa is doing prayers for me, Adesanya would call to talk about his oil and gas business.

"Sherifat later came to my shop again and told me that I need to travel to Nigeria to meet with the alfa for prayers and I agreed. I told my husband about it and he allowed me travel.
"I prepared and left the United States of America on April 6 to Nigeria. From the airport, I drove straight to the Alfa's house at Ijebu Ode around 10p.m. When my driver and I got there, the alfa shouted immediately, 'you can't come into my house with all those forces following you.

"I was shocked. He then ordered me to go and take a bath at the back of his house. I obeyed, took off my clothes and had a bath with the soap and water he gave me.
"At 12midnight, he conducted an all-night vigil with me, his wife, three men and two scary looking women dressed in white gown. They all circles around me and were doing prayers in Arabic language while I kept saying Amen.

"The alfa later brought out a fish from a pot covered in white cotton and have me to eat. I initially refused, but after he licked the oil from the pot and told me it was for my protection. Thereafter I ate the fish.

"I was in his house for about five days and by this time, I had spent about N1.4million on just prayer items. Throughout all the prayer sessions, I was always complaining to Sherifat and Adesanya about the huge money I was spending on the alfa.

"So, immediately I got back to the U.S., I blocked the alfa's number. That was when Adesanya called me, sometimes in June 2017, and told me he would be opening his fifth petrol station on August 5 at Ijebu-ode and would also mark his mother's 80th birthday. I then agreed to attend the party since I would be in Nigeria at that time.

"It was after the party that I agreed to invest into the oil business on the promise of getting 150 per cent profit after a month. But I told him that I had no money but will source for funds.
"Someone wanted to send money to me to help him buy car in the U.S., so I told Adesanya about it and he advised me to use the money to invest in the oil business and that before I clear the car, I would have gotten back the money.

"I called the person and told him to transfer the money directly to Adesanya. A total sum of N29 million was transferred to his account.
"But after a few days, Adesanya sent back part of the money and said that he feels that I don't trust him. I apologized to him and told him that I was only saying he should keep to his words as promised. He then said that if I was still interested, I should bring the money in cash to Nigeria and I did.

"When I took the money to his house at Ijebu-ode, he insisted that we must go to the alfa's house for prayer. I refused but he said that was the surest way to make the deal go well. I then agreed and when we got there, they both took me inside a room to make some prayers (in form of incantations). That was when I realized that they both knew each other very well.
"When I asked him how he knew the alfa, he said that they were both partners in the oil and gas business.

"I later travel back to the US. After waiting for a month without receiving any alert or calls from Adesanya, I called him only to be told that the money I sent wasn't enough for the business.
"Adesanya then requested that I send more money to him but through alfa's account and in October, I borrowed N8.5m from a friend, $10,000 from my husband, another $10,000 from my husband's friend and $5,000 from my doctor. I thereafter transferred a total of N32m into alfa's account in tranches.

"In December, I called Adesanya again to ask for the money and he told me to raise N11m for the final delivery of the oil and I flew to Nigeria to deliver the money to him. But in January 2018, I called him and I started crying that my friends who borrowed monies to me were beginning to demand for a refund.

"That was when Adesanya told me that the alfa has requested for my two phones (an IPhone 6 and Samsung 6+) in order to conduct some spiritual cleansing and deliverance. He told me not to remove or delete anything from my phones and I obeyed and sent it through my sister who was travelling to Nigeria.

"Adesanya's employee told me his boss bought a house and five exotic cars while his friend, Ganiu bought a house and three cars. He told me to quickly come to Nigeria and arrest them.
"That was when I flew back to Nigeria and got Adesanya arrested but Ganiu ran away. Adesanya was arrested three times on different occasions but the police would always released him in less than 24 hours. I got so frustrated that I didn't know what to do.

"So, I called my lawyer to petition the EFCC and he did. Adesanya was finally arrested by the Osogbo Special Anti-Robbery Squad (SARs) and handed over to the EFCC but was also released on administrative bail by the EFCC. The alfa was later arrested a month later.

"It was after their release that Adesanya uploaded my Nood pictures on the internet and tagged my name, my husband, my children and my company. The pictures went viral because he also sent them to a Yoruba Newspaper and other Newspapers.

"They released those pictures on 1st June and thereafter went to blogger to report that I had jumped into the Lagos Lagoon.

"They did all that simply to frustrate me from seeking justice and retriving my money. But I was resolved because my husband stood by me all through the disgrace."
However, Justice Mojisola Dada adjourned further hearing in the matter to 19th December, 2018 for cross-examination and ordered that the defendants be remanded in the prison.
---