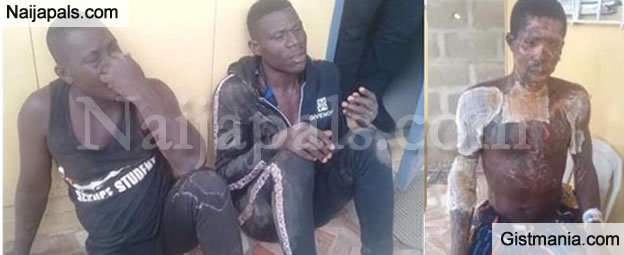 Two Ghanaians have been arrested for robbing their coworker, a truck driver, of their company's vehicle and goods, with the help of an acid. .

Eric Aidan and Matthew Kwasha poured raw acid on Taiwo Adesanya at Olukwu, Benin, Edo State, on Dec. 9, 2018.

According to the police, the notorious criminals specialized in killing their victims with raw acid after dispossessing them of their belongings, especially vehicles. .

Their mode of operation was to seek employment as driver and conductor in haulage companies. .

While in such company, they study the company and perfect ways to divert their employers goods and sell the vehicle. .


After selling the goods, they would relocate to another place where they would apply for the same position in another company.

After they attacked Adesanya with raw acid, thinking that he was dead, they snatched the truck loaded with 600 bags of sugar worth over N10 million.

However, Adesanya was rescued and the owner of the company petitioned the police, leading to their arrest in Enugu State.

The victim who narrated his ordeal in excruciating pains, said: "I was assigned by my company to go and pick 600 bags of sugar to supply to a Brewery in Benin City, Edo State. .

I went with my conductor, Matthew a Ghanaian, but I didn't know that he is a killer and a robber. .

He told me that I should assist one of his friends who was also going to Benin. Out of my magnanimity, I accepted to offer my conductor and his friend assistance. .

I did not know that I was digging my own grave. They did not portray any iota of wickedness as they were showing appreciations to me.

When we arrived Olukwu, near Benin, I became tired and parked my vehicle and slept off inside the front seat. .

I was in very deep sleep when something like fire started ravaging my body and I quickly woke up in excruciating pains.

While I was shouting, my conductor was telling his friend to finish me with the wheel spanner and his friend replied that the acid was enough to kill him."
Problem with this article? Please contact us
---