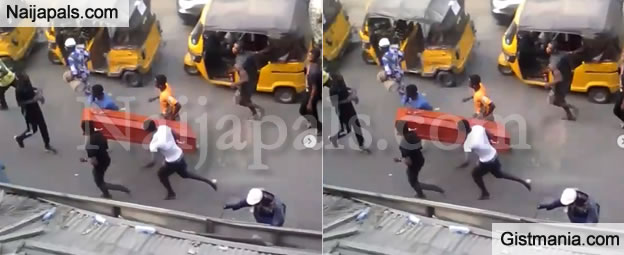 There was mild commotion today in Ikeja, Lagos, as traffic was brought to a standstill and mourners were filmed swinging a casket while noisily calling attention to themselves.

In the video shared online by Tony Krooz, the mourners can be seen carrying the casket while running and dancing with it as some others played different instruments, like the drum, and sang.

People walking on the street had to run as the mourners approached with the casket.

Their parade led to traffic, and masquerades accompanying them went after the tricycle and motorcycle riders to extort them.

Sharing the video, Tony wrote:



Quote

Something just happened right now at ikeja.....who is the deceased? Royalty?? Cult member?? I mean....in broad day light and I see niggas swinging a casket back and forth while the masquerades forcefully collect or extort money from the tricycle riders. Why? Where is the law? Is traditional law the highest law in Nigeria??



watch the videos below.


---