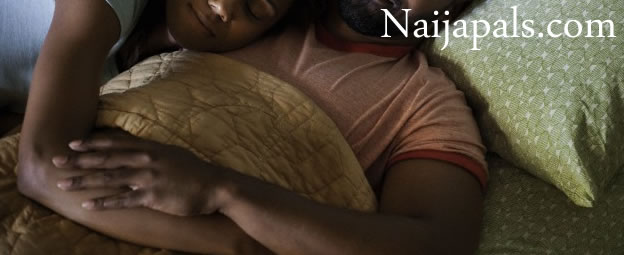 A housewife, Mrs. Nana Seluba, stunned her husband after she told him that his younger brother, Abdulahi Alika, had satisfied her sexually when the husband travelled as such she did not miss him. It was gathered that her husband got his brother arrested for conduct likely to cause breach of public peace.
The incident happened at Kilometre 5 Igando/ Ikotun Road in Ikotun area of Lagos where Nana lives with her husband.

It was gathered that Nana's husband got married to her in their home state in northern part of Nigeria and brought her to Lagos.

However, the husband left her and travelled back to their village whereas his younger brother, Abdulahi, who also resides in Lagos, took up the obligation to satisfy her sexual needs until her husband returned.

The whole thing got exposed when their neighbours upon her husband's return asked to know who among Abdulahi and his elder brother was married to Nana because Abdulahi moved in and started living with Nana when his brother travelled to their home state.

It was then that Nana's husband remembered that she was calling him with Abdulahi's phone when he was away and then asked her what happened. The wife then told him that he created a vacuum when he travelled and that his younger brother, Abdulahi, closed the gap and satisfied her before his return.

The husband became angry and reported the adulterous act to the police at Igando Division; Abdulahi was arrested and detained at the station for interrogation.

Our source scooped that during interrogation Abdulahi denied but Nana was brought to the police station and she explained to the police that throughout the period her husband was not around that it was Abdulahi she relied on for her sexual needs because

Abdulahi was her husband's immediate brother.

The police found him culpable and charged him before Ejigbo Magistrates Court for sleeping with his brother's wife. He pleaded not guilty.

The prosecutor, Supol Kenneth Asibor, informed the court that the matter needed DPP advice because the police alleged that Abdulahi forcefully engaged Nana in sex romps.

Thus, the Presiding Magistrate, Mr. T. O. Shomade, denied him bail and ordered him to be remanded in prison custody. The court directed the prosecutor to send the file to DPP for advice.

The matter was adjourned till 27th February, 2019, for the report of the DPP advice to be available.
Problem with this article? Please contact us
---