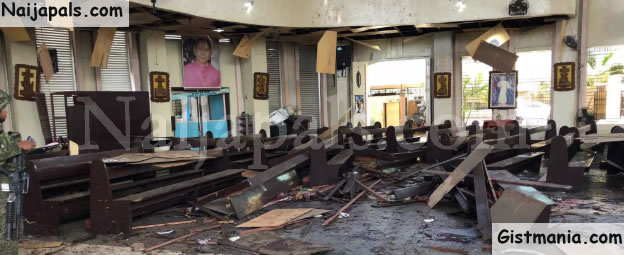 Two bombs set off minutes apart tore through a Roman Catholic cathedral in the Philippines during Sunday mass killing at least 20 people. Witnesses said the first blast inside the Jolo cathedral in the provincial capital sent churchgoers, some of them wounded, stampeding out of the main door.

Soldiers and police posted outside were rushing in when the second bomb went off about one minute later near the main entrance, causing more deaths and injuries.




Jolo island has long been troubled by the presence of Abu Sayyaf militants, who have carried out bombings, kidnappings and beheadings for many years.

The initial explosion scattered the wooden pews inside the main hall and blasted window glass panels.

The second bomb hurled human remains and debris across a town square fronting the Cathedral of Our Lady of Mount Carmel, witnesses said.

Pictures of the inside of the Jolo church showed several rows of wooden pews destroyed, with debris strewn across a blackened floor.




The military was checking a report that the second explosive device may have been attached to a parked motorcycle.
The fatalities included 15 civilians and five troops while the wounded included 14 troops, two police and 65 civilians.
Problem with this article? Please contact us
---