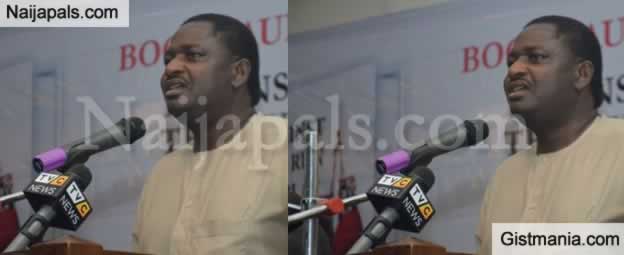 Femi Adesina, presidential spokesman, says Atiku Abubakar, presidential candidate of the Peoples Democratic Party (PDP), will not win the election even if witches and wizards endorse him.

Adesina said this in reaction to the endorsement of Abubakar by five socio-cultural groups in the country.

Writing via his Twitter handle on Monday, he said President Muhammadu Buhari's opponents will fail during the elections, no matter whose endorsement they get.

"NEF, PANDEF, Afenifere, others endorse Atiku. Let witches and wizards also endorse, if they like. The harder they come, the harder they fail. No beating the Nigerian people," he tweeted.


On Sunday, the Pan Niger Delta Forum (PANDEF), Northern Elders' Forum (NEF), Ohanaeze Ndigbo, Afenifere and Middle Belt Forum (MBF) had adopted Abubakar, saying he had shown that he would restructure the country if given the mandate.

But the Buhari campaign had described the endorsement as a deception, alleging that it was engineered and carried out by PDP supporters and sympathisers.

In a statement, Festus Keyamo had said the PDP candidate and the people supporting him are "attracted to themselves" because of their self interest and what they would benefit from one another.

"As regards the endorsements by the socio-cultural groups, there is no fraud bigger than that of known PDP members and/or hardened PDP sympathizers wearing the apparel of socio-cultural groups, purporting to represent entire regions and endorsing their own political party," the statement read.

"Their excuse that they are supporting Alhaji Atiku Abubakar because of the bogey called 'restructuring' is nothing but a subterfuge. In any case, Ohaneze had said in its earlier release that the first reason they are endorsing Atiku Abubakar is that his running mate is an Ibo man.

"Unfortunately for them, President Muhammadu Buhari has managed to navigate his way directly to the masses who they purport to represent and is ensuring that the dividends of democracy reach the people directly."
---