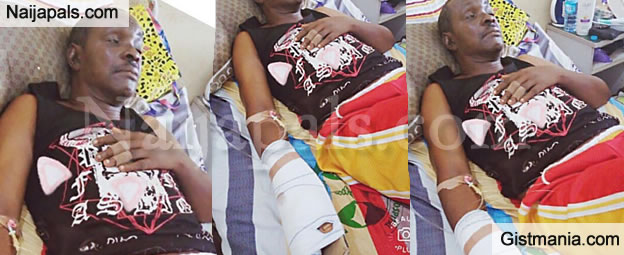 Former Commissioner of Women Affairs during the first tenure of Governor Kayode Fayemi in Ekiti State, Mrs Funke Owoseeni, on Thursday, narrowly escaped being killed by some suspected assassins who invaded her residence located in Ijesa Isu. .

However, her husband, Mr Paul Owoseeni, was not as lucky as his five fingers were chopped off. .

Narrating her ordeal to Journalists, Mrs Owoseeni , said the assailants numbering about seven, stormed her house at about 8.30pm and turned off the generating set outside, throwing the well- lit environment into total blackout. .

She disclosed that the attack was politically motivated. She said, aside from her husband, two students living in the building were also attacked with cutlass and iron rod. .




"I was able to see them and I had to rush back inside and hid myself somewhere. They brought my husband inside and started asking, where is your wife? We are here for her and not you. .

When he didn't give them where I was, they started macheting him with dangerous weapons and they did that until they chopped up his fingers and they fled when they saw that he had passed out", she revealed.
Problem with this article? Please contact us
---