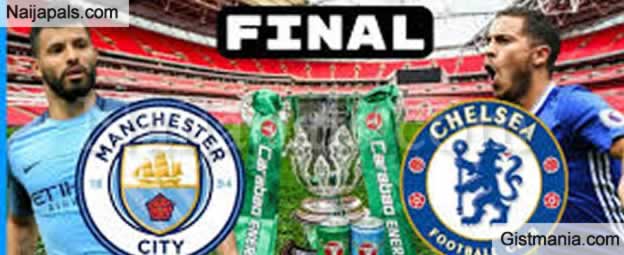 Time: 5:30pm
Date: 24/02/2019
Stadium: Wembley
Team News:
Chelsea and Manchester City will go head to head to decide this season's first piece of silverware and while Pep Guardiola's side are looking at it as the first piece of a potential quadruple trophy haul, while Maurizio Sarri will be looking to secure more time in his job by guiding his side to their first League Cup trophy since defeating Spurs in 2015.

But it won't be easy for Sarri's men. Having been embarrassed by Manchester City earlier on this month with a 6-0 loss, there may be an expectation from their fanbase that they need to get revenge on City. That, as well as Sarri being unable to set his side up defensively, means that Chelsea could be walking into another yet disaster at Wembley.

Chelsea's style of play may get called Sarri ball. But let's be honest with ourselves, this is not the Sarri ball that was implemented effectively during his time at Napoli. A lot of the fundamentals of the system are present that mirrors the philosophy, but he hasn't had the time to really get the squad playing the way he wants effectively. It doesn't help however that results have not been great at a club that has such a high demand for success.

One of the things that is still present at the moment though from his time at Napoli is that his Chelsea side still press opposition teams. But It's a dangerous game to play if you don't get it right, much like against City last time out.

Too many times City were allowed to play between the lines because Chelsea didn't press collectively or switched on to immediate dangers. Pep Guardiola's side are experts at neat passing around a lazy press, and once again it could be Chelsea's undoing if they don't get it right.
City are not without their weaknesses either. With Kompany still coming back from injury and John Stones out they could be forced to move Fernandinho back into the centre of defence. While he is quite capable of doing that role it can sometimes be a different situation in the high stakes environment of a cup final.

This could be where Sarri targets City. Allowing Hazard to run into the centre from the left hand side with Alonso preoccupying Walker. Fernandinho may not enjoy being caught 1v1 against the Belgian forward. This could mean that one or all of City's midfield has to drop a bit deeper to double up on him and allowing more space for Jorginho to dictate the tempo a bit more from midfield.

City though have more options to attack Chelsea than the other way around. Although they will lack the aerial threat of someone like Chelsea has in Higuain, they will take comfort in knowing that Azpilicueta is a weak link in the air, especially at the back post. They will also know that by marking the midfield tightly they will force players like David Luiz to dribble out from defence, if they can force the turn over quickly while he is out of position then they could pounce on the gaps he leaves in defence.
Prediction: Chelsea 1-3 Manchester City.

---