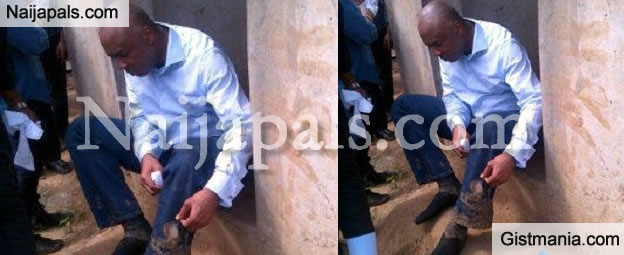 Adams Oshiomhole, national chairman of the All Progressives Congress (APC), says Senate President Bukola Saraki's loss shows that he has been buried politically.
Oshiomhole spoke with state house correspondents at the presidential villa in Abuja on Wednesday.

Saraki, who represents Kwara central senatorial district under the Peoples Democratic Party (PDP), lost to Ibrahim Oloriegbe of the All Progressives Congress (APC).
While he did not mention him by name, Oshiomhole said although the ruling party had plans to impeach the senate president, the people decided they would rather "bury him", TheCable writes.



Quote

"Let's also say to be honest that as much as we want to be magnanimous in victory, there are couple of things that have happened, that show that the Nigerian people know how to reward those who are extremely arrogant," Oshiomhole said.
"People who came to the senate with less than a 100,000 votes and began to hold the country to ransom, their own people have recalled them home. While we were saying that we will impeach them, their people said they would rather bury them.
"Politically, now, they are out. It shows the power of democracy, it's a leveler, an equalizer. You cannot be bigger than the people. Our people say that a politician is likened to an Okro tree, it should never grow taller than the person who planted it.
"And those who plant the political okro tree are the Nigerian people. I think, a couple of lessons have been learnt.
"This game is for those who are humble, those who believe in the people. There are no dynasties, the people are the sovereign.
"When they borrow you the power, remember, it is only lent to you, and it will expire, and it will require renewal. If you don't behave, thy will remove you."



Oshiomhole also spoke highly of President Muhammadu Buhari's acceptance speech, saying nothing less is expected of a statesman.


---