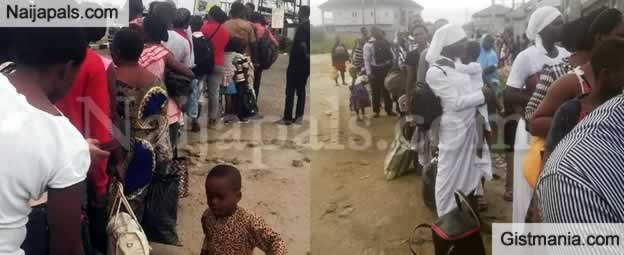 Residents of Abonnema community in the Akuku-Toru Local Government Area of Rivers State, have begun leaving the once peaceful area in droves after the killing of two soldiers on Saturday (yesterday).

According to reports, the soldiers who have been in the region since the presidential and national assembly elections, were killed by unknown gunmen who allegedly carted away their rifles.




The residents who have been filled with fear over reprisal attack by the military, were seen leaving the community this morning.

Meanwhile, some women of Abonnema community on Saturday staged a protest to condemn the killing of over 35 of their children during the presidential and National Assembly elections on February 23.




The women, who marched round Abonnema town, warned that military personnel should not be deployed in the area in the governorship and state Assembly elections billed for March 9.

The women appealed to the King of Abonnema to help restore back to the town, stressing that "Abonnema used to be a peaceful community." They enjoined the king to caution the ruthless display of "federal might" by some members of the community.




"We plead with you to talk to our sons who are today enjoying the federal might to used it for the betterment of their community. Some other persons have also held those positions; they used it to better their LGAs. We are pleading: We expect them to use whatever they enjoy today to better our lives."

Watch the videos below.



---