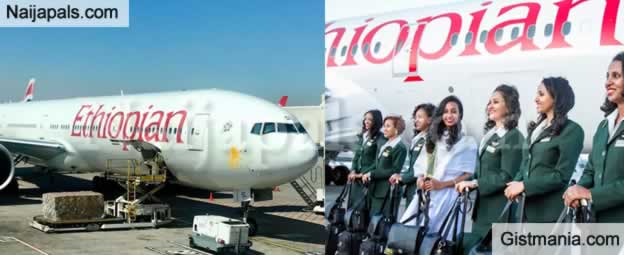 A Nigerian is said to be among the 157 victims of the Ethiopian plane mishap which occurred on Sunday, March 10.

All 157 people on board an Ethiopian Airlines flight that crashed soon after taking off from Addis Ababa have been killed, the airline said on Sunday morning.
The plane, en route to Nairobi, Kenya, lost contact at 8:44 a.m. local time, six minutes after taking off from Bole International Airport in the Ethiopian capital.




An airline spokesperson told CNN the victims were of 35 different nationalities.
The spokesperson said 32 Kenyans, 18 Canadians, nine Ethiopians, eight Americans, eight Italians and seven UK nationals were among the passengers.
Eight Chinese passengers were also on board, said Li Liang, spokesperson for the Chinese Embassy to Ethiopia.




An eyewitness at the scene revealed there was an intense fire as the aircraft hit the ground.

"The blast and the fire were so strong that we couldn't get near it," he said. "Everything is burnt down. There are four helicopters at the scene now."

According to the spokesman of Ethiopian airline, Flight ET 302 crashed near the town of Bishoftu, 62 kilometres southeast of the capital Addis Ababa.

It is said that there were no survivors from the tragic incident.

The last major accident involving an Ethiopian Airlines passenger plane was in January 2010, when a flight from Beirut went down, killing 83 passengers and seven crew.

Checkout countries of victims.

Problem with this article? Please contact us
---