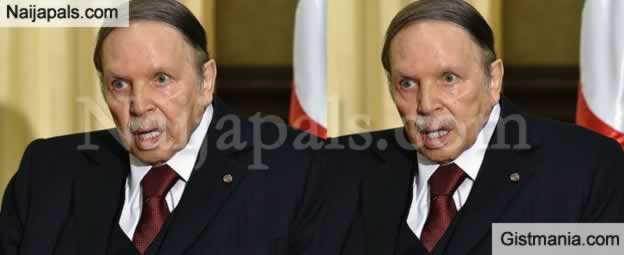 After weeks of massive protest in Algeria, the President of the country who has ruled for 20 years has been forced to resign. Algeria's President Abdelaziz Bouteflika has resigned after weeks of massive street protests.

Mr Bouteflika, who has been in power for 20 years, had already dropped plans to seek a fifth term as opposition to his rule grew.

The powerful Algerian army had called for the 82-year-old to be declared incapable of carrying out his duties.

Protesters have vowed to continue piling on pressure until the entire government is ousted.

The BBC's Mohamed Arezki Himeur in Algiers says there were huge celebrations in the city, with people shouting, waving the national flag and honking their car horns all night.

He says the protesters do not only want Mr Bouteflika to go, but the whole system, in particular the government which was only appointed last weekend.

"This is just a little victory - the biggest is still to come," one protester said.

Mr Bouteflika, who has been ill since he suffered a stroke six years ago, has avoided public events ever since.

However, he made a rare appearance on state TV to relinquish power hours after military chief Lt Gen Ahmed Gaed Salah called on him to leave office immediately.

One man, Selmaoui Seddik, told Reuters:

Quote

"God willing, we will have a 100% democratic transition, this is very important. We need to remove the whole previous regime and that is the hardest thing."



However, one protest leader, Mustapha Bouchachi, said before the announcement that any decision by Mr Bouteflika to quit would still change nothing and that the protests would continue.

News of the resignation came in a statement carried on state news agency APS.

"The president of the Republic, Abdelaziz Bouteflika, has officially notified the president of the constitutional council of his decision to end his mandate as president of the republic," it said.

State TV then reported that this would be with immediate effect.

According to the constitution, the Senate speaker should take over as interim head of state until fresh elections are held.

How did it come about?

Pressure had been building since February, when the first demonstrations were sparked by Mr Bouteflika's announcement that he would be standing for a fifth term.

Tens of thousands protested across the country on 1 March. Mr Bouteflika's promise not to serve out a fifth term if re-elected, along with a change of prime minister, failed to quell the discontent.

Leaders of the protests also rejected Mr Bouteflika's offer this week that he would go by the end of his current term - 28 April - as not quick enough.

It seems the powerful military agreed. Its chief, Lt Gen Ahmed Gaed Salah, said earlier on Tuesday: "There is no more room to waste time."

---