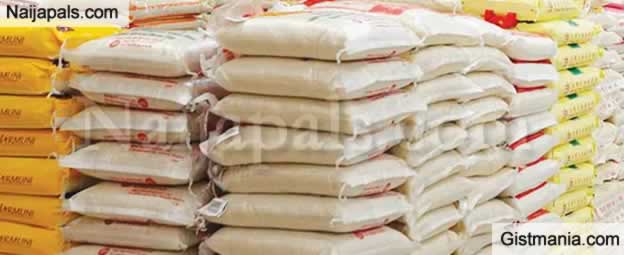 Over 1 million metric tons of rice ( about 20 million bags of 50kg foreign rice) are currently in Nigeria market, smuggled through international boarder routes in the last 3 months , Rice Processors Association of Nigeria (RIPAN) has said. The security agents, especially the Nigeria Customs Service( NCS) are helpless, doing less than expected in tackling the menace, RIPAN Chairman, Mallam Mohammed Abubakar, claimed over the weekend at an interactive session with the media on high spate of rice smuggling into Nigeria . He added that investigations by his association and intelligence reports, showed all Nigeria's international borders have been converted to smugglers route, leaving local markets filled with smuggled foreign rice.

"Investors in Nigeria have made enormous financial commitment in the rice sub-sector. Unfortunately, the only threat to the industry's total development, is smuggling .Over 1 million metric tons of rice ( about 20,000,000 bags of 50kg rice) have been smuggled into Nigeria in the last three months.

Nigeria currently loses huge revenues, foreign exchange and Jobs to this menace. Nigeria Rice Processing companies are shutting down because of their inability to gain market access. "More painfully, millions of small-holder farmers are stuck with their paddy because the millers can no longer afford to buy from them", RIPAN Chairman, Mallam Mohammed Abubakar lamented. He expressed frustration with the laxity from Nigeria Customs Service and other food regulatory agencies such Standards Organization of Nigeria and NAFDAC whom he accused of not living up to their challenge of blocking entry of smuggled rice. "In the last 30 days, we have met with Nigeria customs more than 10 times over the rising spate of smuggled rice through our boarders.

We appeal to government to incorporate EFCC in this fight by treating officers aiding this as engaging in economic sabotage crime." "The Rice Processors Association want to use this opportunity to tell everyone that If this menace is not tackled with appropriate dispatch, the magnitude of loss to Nigerian rice stakeholders starting with the Federal Government, Integrated Rice Millers, funding banks, CBN, rice farmers, mill workers, rice consumers, etc. would be too devastating to cope with in an economy that is fledgling. There is need for urgent action to avert eventual national food emergency by combating smuggling so that we can continue to grow our local Rice industry and the economy ", said Abubakar.
---