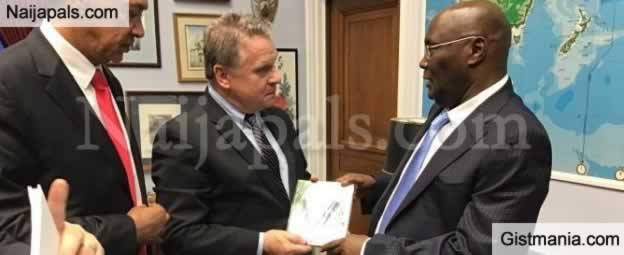 Atiku Abubakar, presidential candidate of the Peoples Democratic Party (PDP), paid $30,000 to Fein & DelValle PLLC, a US firm, TheCable reports.

The PDP presidential candidate sought the services of the company in his bid to unseat President Muhammadu Buhari.

The Centre for Responsive Politics (CRP) had reported how Atiku hired Bruce Fein, a former official of the US justice department, and his firm Fein & DelValle PLLC, in March.

In its terms and conditions for representation, Fein & DelValle PLLC had said it would establish and operate a situation room located in its capitol hill offices in the US and enlist the services of Lloyd Ukwu, a Nigerian barrister and trusted confidant of Atiku, to assist in the operation of the situation room.

One of the exchanges between the US firm and Atiku
The firm also proposed to execute strategies to secure the US endorsement of Atiku's efforts to defeat what it called "flagrant violence and irregularities orchestrated" by the All Progressives Congress (APC) and Buhari to compromise the presidential election.

Twenty-four hours after the report was published, Atiku denied paying money to US consultants in his bid to dislodge Buhari, his main rival in the February 23 election.




In a statement issued on his behalf by Paul Ibe, his media aide, the former vice-president, described the reports that he paid $30,000 as "a total fabrication". He blamed it on the APC which he said had resorted to using "fake news to divert public attention from the historic electoral heist they have committed against Nigerians". "Former Vice President of Nigeria, Atiku Abubakar dismisses as total fabrication the latest allegation instigated by the Buhari campaign that he spent $30,000 to hire a US lobby group to persuade the US Congress to stop the inauguration of President Buhari," the statement read. "The APC are behaving nervously like a thief living under the fear of being exposed and shamed. No amount of diversionary propaganda and fake news campaign by APC will stop Atiku Abubakar from continuing the court action.
---