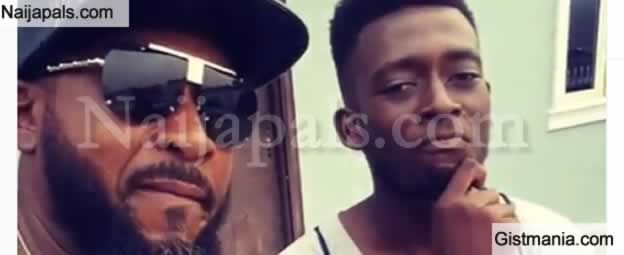 Actor, Chidi Mokeme could not curtain his joy as his son clocks 21 today, he took to his Instagram page to pen an emotional message to the young man



Quote

Dear Son,

@emem_mo How time flies! Dear Son,

How time flies! It has taken you 21 solid years to become a man

As you turn 21, I am a proud father because by God's Special Grace I have watched you grow from babyhood, to boyhood, to teenagehood and now to manhood. Sometimes, I wish you would always be here but my greatest wish is that you would grow up to be bigger, better, wiser and stronger than I am. To do that, you would need the one thing it takes to be a man - COURAGE. You need the courage to be EXCEPTIONAL, UNDAUNTING, and SUCCESSFUL. You need the courage to hold on to FEROCIOUS CURIOSITY and not loose it in the transition to manhood. When you loose your curiosity you get stuck in a monotonous routine of helping other people build their dreams instead of staying true to YOUR DREAMS and following your PASSIONS. As you become a man, you shall leave behind boyhood ways and pick up the mantle of manhood. Boys want money and things; Men create wealth. Boys go after girls; Men go after the things women want, then find the right women for themselves. Boys compete with each other. A man competes with himself. Boys care less in their exuberance; Men are discreet. I urge you, on your 21st birthday, to DESIRE and get the VIRTUES that are worthy of a MAN - INTEGRITY, FAITH, SELFLESS SERVICE, GENEROSITY, HUMILITY and CONGENIALITY. Old things have passed away and ALL things have become new.

You are a Demi-god. You are made in the likeness of the Almighty God. You are a KING! Go Conquer the World around you, Go Get Your Crown and Bring Home the TROPHY I LOVE YOU SON

Happy Birthday. Have Fun and Enjoy Ur Moments FATHER'S PRAYER: One request today, Lord. Make my son to be indeed an arrow in my hand, to bear the fort which I have upheld to this day. Grant him a shield to ward off the fiery darts of the strange one. Keep him from the wiles of the enemy. In Jesus Name. Amen.



---
Posted: at 14-06-2019 01:03 PM (3 years ago) | Gistmaniac