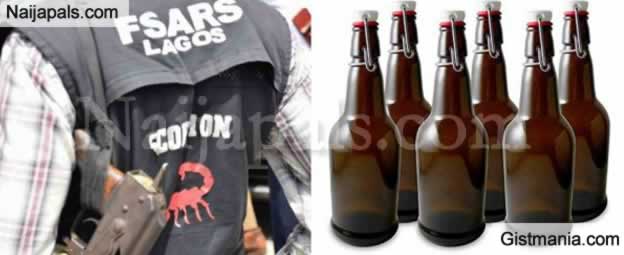 A man has taken to social media to call out some officers of the Special Anti-Robbery Squad, SARS whom he accused of extorting him of a pack of beer.

The man identified as @ogbenioloyede wrote that when the officers checked his ID card and found out he was legit, he was asked to open his car trunk, which he did.
When they saw a pack of Beer, he claimed he was asked to forfeit it or get arrested.

He wrote on his page:

'SARS stopped me at Lagos Island today, they checked my ID card and find out I'm legit, so they asked me to open my car trunk, they saw a pack of Goldberg they carried it and ask me to go or else they'll arrest me, daylight robbery.'

— Otunba (@ogbenioloyede) June 17, 2019

While reacting to his post, some Nigerians narrated their ordeals in the hands of the dreaded officers. A certain user wrote that after searching his cousin and finding nothing incriminating on him, the officers sniffed his palm and accused him of smoking weed

My cousin's fiancee was stopped they didn't see nor find anything illegal.. Imagine they sniffed the guy's hand behold he was charged that he smokes weed.. 15k was collected from him on a Saturday afternoon.

---