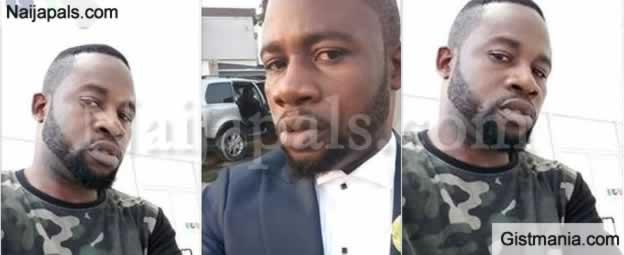 A Nigerian woman, Enobong Akpan-nya has been left in a state of pain after a thief employed a new tactics to steal her expensive phone in Lagos.
Enobong in a tagged Facebook post revealed that she lost her phone while at an eatery after the thief walked up to her requesting to make call with her phone since his phone's battery was down and there was no where to charge it at the Mega Chicken eatery where she was having a good time with friends.
Unknown to her that the individual who approached her was a thief, she gave him her phone to make call, sadly, the man sneaked out with the phone and escaped.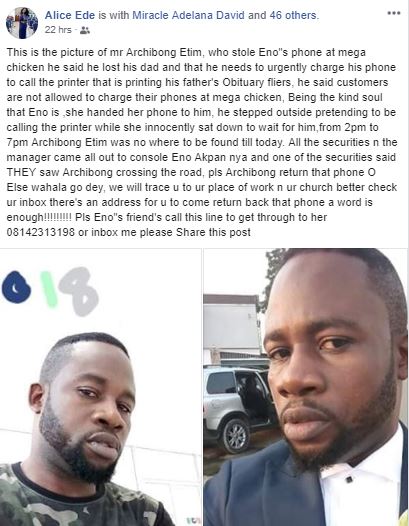 She has called on people to help her identify the thief.
Read the post her sister Alice Ede made and the one she posted herself tagging it on her wall:


Quote

"This is the picture of mr Archibong Etim, who stole Eno"s phone at mega chicken he said he lost his dad and that he needs to urgently charge his phone to call the printer that is printing his father's Obituary fliers, he said customers are not allowed to charge their phones at mega chicken, Being the kind soul that Eno is ,she handed her phone to him, he stepped outside pretending to be calling the printer while she innocently sat down to wait for him,from 2pm to 7pm Archibong Etim was no where to be found till today. All the securities n the manager came all out to console Eno Akpan nya and one of the securities said THEY saw Archibong crossing the road, pls Archibong return that phone O Else wahala go dey, we will trace u to ur place of work n ur church better check ur inbox there's an address for u to come return back that phone a word is enough!!!!!!!!! Pls Eno"s friend's call this line to get through to her 08142313198 or inbox me please Share this post.



The second post she made:


Quote

Good evening,fam. The previous post you saw by Alice Ede is true. This is Enobong Akpan nya and my phone was really stolen. I was only trying to help and he walked out with my phone. A very smart scam.
Said he lost his dad weeks ago. And since his phone battery was down and he was unable to call the printer for the obituary flyers..he asked to use my phone to call and I gladly helped. Dude walked off and I was waiting for more than five hours. It's a wawuu!
I feel sad because this is mostly where most of my work is done and counselling I do too. Have no means to get a replacement now,so please bear with me. You can contact me on this temporary number for now 07012414042...till I retrieve my original line. Sadly i will b off here for awhile till I get a new phone. I will miss here. Love you guys! :-
Ps:Yes. Drag him.
Enigma