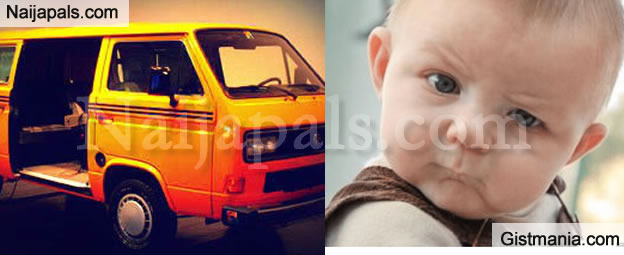 When a 25-year-old man, identified simply as Jelili, died inside a commercial bus at Eji Motor Park, Mile 12 area of Lagos State, the owner of the bus, Mr. Wasiu Olabisi, never bargained that such a tragic incident would plunge him into running from pillar to post, trying to raise money to give to police.

Olabisi's trouble with the police started after Jelili died inside his commercial bus. Olabisi, a professional bus driver, had to park his bus in the park after it developed fault. He would later find out that Jelili and a friend broke into the bus to sleep. The boy slept in the bus and never woke up.

Police didn't arrest Olabisi, but they "arrested and detained his bus". The police allegedly told him that if he wanted the 'case to die' and wanted his bus back, he had to pay some money. After a bit haggling and negotiations, the police asked Olabisi to cough up N25,000.

Almost weeping, the bus driver said: "Where on earth can I get such an amount of money?

"In fact, on Tuesday, I was still speaking with my mechanic on how to go about fixing the bus, so that I could start work the following day. I didn't know something dreadful had happened. I was yet to get to the 'garage' when information reached me that Jelili, a conductor, had died inside my bus. It happened on June 4. I was later told that the he had been suffering from typhoid fever, but he refused to go to hospital."

It was learnt that Jelili and a friend went into Olabisi bus, which was parked in a motor park to sleep for the night. The first time Olabisi saw them, which was on Sunday; he chased them away and locked the bus. On June 4, which was on a Tuesday, they would later fiddle with the door, unlock it and go inside to sleep. It was a sleep, which Jelili never woke up from.
Olabisi said: "After parking the bus in the garage, I decided to leave for home. I told my co-drivers, who also parked their buses in the garage that my bus was there. I went home. When I returned the following day, I met Jelili and his friend inside my bus. I chased them away and locked the door. I started working with a friend's bus, while hoping to fix mine soonest.
"One day when I was coming from Ikorodu to work with a friend's bus, I received information that someone had died inside my bus, which was parked in the garage. I immediately became scared. Yes, I was scared of the police, I didn't want trouble. I didn't want to be arrested and detained over something I knew nothing about. I couldn't go close to the garage where my bus was parked. I heard from a friend that the chairman of the garage invited policemen from Alapere Police Station. The police evacuated the body to Ikorodu General Hospital mortuary, where it was deposited."
Olabisi, who said that his major concern presently was on how to get back his bus, which was his only source of livelihood, explained that after the body was removed, the police returned and towed his bus to their station. He said that since then, he had been battling to get his bus back.
He added: "When I went to the police station to retrieve the bus, the Investigating Police Officer (IPO) demanded N25,000 from me. I had not been able to raise the money and the police continued to 'detain' my bus. The bus has been in their custody for four weeks. The Lagos State Commissioner of Police, Zubairu Muazu, should come to my rescue. I am not the person that killed the boy. He only slept in my bus and died there.

"I have made several efforts to get my bus back. I went to a lawyer who advised me to meet with the chairman of the garage. He said that it was only the chairman that could help me get back my bus from the police. When I met with the chairman, he said that if he had known I was the owner of the bus, he wouldn't have allowed the police to take it away. The police are still insisting on collecting the money before releasing my bus. For over four weeks now, I have been idle, doing nothing. The bus is my only source of income. There was a time I made attempt to get a bank loan so that I could get my bus back, but because of the high interest, I ran away. Right now, I'm only hoping in God. I have run out of options."
Jelili's friend, Mr. Tolani Hassan, said: "The death of Jelili was unfortunate. When the typhoid fever started, I advised him to go to hospital; he said he didn't have money. In fact, a day before he died, he looked emaciated. I told him to go home and meet his parents, but he said he didn't have money.

"I told him to sell his phone to take care of himself. He wanted me to sell it for him, but I refused. I didn't know that would be our last discussion. It was the following day when I came to the garage that I was told he died inside the bus overnight.

Another friend of Jelili, who introduced himself as Sodiq, described the death of the man as unfortunate.

He added: "Nobody knew where the deceased came from. Anytime I told him to call his parents, he would tell me lies. He would say he didn't have a call card or some other thing. The deceased and another conductor forced the door of the bus open to sleep inside. The owner of the bus was not aware that the boys slept in the bus after he had chased them out the first time.

"There was a time I used to sleep in the garage, policemen came on a raid and arrested many of us. Jelili, myself and other guys were arrested. We were taken to court and remanded in prison. Since we came out of the prison, Jelili had been complaining of different sicknesses. There was a time we contributed money for him to travel home, to take care of himself, he went and returned."

The state Police Public Relations Officer (PPRO), DSP Bala Elkana, when contacted to find out why Olabisi's bus was still being 'detained' and why the IPO was asking for N25,000 before the bus could be released, said that he was not aware of the incident. He promised to find out about the matter and get back to our correspondent. But as at the time of filing this report, he was yet to do so.
Problem with this article? Please contact us
---