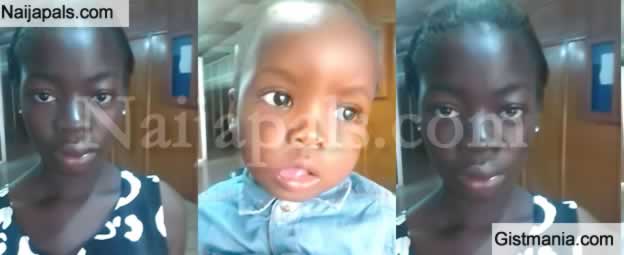 She was a victim of rape, became a single mother at 17. She has really suffered a fate so hard to comprehend for her short life. With a year-old baby to take care of and so much need in her life, Toluwani tells her story

TELL us about yourself

I'm Toluwani Oluwadahunsi from Ise Ekiti. I am 18 years old. I have a son. He is a year old. I attended Mount of Saints Royal College in Ikotun, Lagos, but stopped going to school when I got to S.S.S 2. My mother is from Edo State. She was a photographer and was married to Abiodun Akindahunsi, my father.

Who were you staying with before now?

Mrs Mummy Adebowale, a missionary pastor. He was helping me with my studies then, but a clash between her and my mother affected my studies.

Where are your parents?

I have a mother and I have a father, but I don't know my father. My mum is fine and at the same time, she is not fine because I do not understand what is happening to her. People tell me that my mum is psychologically unstable because they believe a mother won't leave her child to suffer. That is why I don't understand that part of my mum. But she comes to me once in a while. I think it is whenever she is okay that she remembers me and comes to me. Each time she comes, we really have nice time together. Each time I ask when I can see my father, she declines. She would only say that my father is now married and has three kids in Abuja. She told me that my father's wife is a witch and she doesn't want me get close to them. That is why she has taken me to Abuja. She also made me understand that my father is under the bondage of that woman.

So, what brought you to Redemption Camp where you have been living with your little child?

I grew up there. My mummy brought me there. I could remember when I was born, my mummy was severely sick. So, she was taking me from one mountain to another. We used to be together until about when I was between six and seven years, and she would leave me without looking back for two months, three months and sometimes more. At times, she won't come for a year and I would be squatting with friends. And at this period of her absence, I always accept whatever comes to me because I had to survive.

Who was taking care of you at the camp at your little age?

Nobody. I had to beg. My mother taught me how to beg. She wasn't working. That is what I do for a living. Raiding in Redemption Camp started a long time ago. It was when they raided the auditorium that I would search for my mum to ask her about my education. She wanted me go to school, but she did not have the capacity. It was at one tutorial centre that I was attending in the camp that the teacher told my mum that I was a brilliant student. He offered to put me in primary four. My mummy was happy. The man was helping me until he left the school. But I continued the lesson until I finished primary six. When I finished, my mummy was not around, so we squatted anywhere available. I met one woman, Mummy Adebowale, one Saturday. They were doing evangelism and they packed many of us. The woman preached to us that we should give our lives to Jesus, but I was just looking at her. I told her that I had accepted Jesus Christ already. After preaching, she told us to ask her any question. I asked her how come some people are poor and others rich. She didn't answer that question immediately, but changed the topic. When she finished, and I was about to leave, she called me back and asked what informed my decision to ask her that kind of question. I told her it was because I didn't understand why we have some people poor and others rich. I explained to her how I always saw some girls like me that their fathers would drive to school and open the door for them, but mine has never been like that. I had been deflowered since I was nine years old.

Where did that happen?

This incident what made me to stop looking for my mummy. In fact, the incident happened on my birthday. My mother would leave me without looking back. On this day, raiding was going on in the camp, and I couldn't find my mum as usual. I had committed her number to memory, so I called her and she told me she was at Prayer City for prayers. I told her that I was on my way to Prayer City around 10 in the night. With the ₦100 I was given from begging that day, I boarded a commercial bus from Mowe without knowing that the driver had a bad intention for me. All the passengers disembarked from the bus at Ibafo, except me. The driver took me far beyond Prayer City despite my cry and pleadings that he should stop the bus. Instead, he stopped at Magboro. When we got there, he asked how old I was. I refused to answer him. Eventually, this man raped me. I could not defend myself. When I woke up, it was in a room with a security man. I asked him how I got there. He said he met me lying down helplessly and that I had been in that room for two days. The last thing I could recall was that I had severe pain and was unconscious when that man helped me. He made love with me inside the bus, in the front seat. I was nine years old. The security guard gave me N500 and I went to Prayer City to locate my mum. I narrated the incident to her, but what she said never made me to believe that I had a mother. Her response was: "Why are you scared? Well, you are now a woman." Because of what she said, I began to withdraw the love I had for her. Till now, I hate her with passion. She doesn't even mean anything to me again.

Why did your previous sponsor stop?

She didn't stop sponsoring me. She has two children- Israel and Ore. I had an accident when I was living with the woman. It was in the midnight when I wanted to visit the ladies that the fan cut my head. I did not know that the fan was already on. I bled profusely. She rushed me to LUTH and they took care of me. Even that day that they stitched my head, I still went to school. When she called my mother to tell her of the incident, my mother got furious and asked her why she could allow that to happen. She insulted the innocent woman. She also called me all sorts of names, like a witch. Because of this, the woman said that she would only take me back when my mother was ready to sign an agreement with a lawyer. My mother declined this request. She even went to the woman's house and started embarrassing herself. I was left with no choice than to leave the woman's place. That was how she stopped sponsoring me.

What have you been doing since then?

I have been squatting. At a time, I worked as a food attendant, where I was paid ₦1,500 for Thursdays and Fridays. Before I had this baby, I was living with my friends.

How did this baby come to be?

There was a woman called Mummy Alpha and Omega whom I was living with. That was where I met the father of this boy. The father was a 23 years old caterer then. This woman would ask me why I was alone and that I should get pregnant and have someone to be with me instead. That was when I gave it a thought that this woman might be right because I had always been alone. So, the boy and I started dating until I got pregnant. Although he accepted the pregnancy when I told him about it, the woman declined that she couldn't continue to feed me and my child. That was when he began to say that he wasn't responsible for the pregnancy and was not ready to take care of a lady. He advised me to abort it. I declined because of the fear that I might die in the process.

Were you not exposed to contraceptives?

I was, but he didn't like using it.

Did you not have the inkling he was not going to stay?

When I knew that guy, he was very hardworking. That was why I had hoped that we could make out a living together. His father, however, did not want our relationship because he did not have a stable job. I used to believe that he was the only person I knew. It was a mistake I made.

What were the challenges you faced delivering the baby?

I just bought some necessary things. Those expected for a new baby were not there. I was the one who struggled to the maternity home because it was too far. When I went for ante-natal care, the only thing I paid for was the hospital card and it was ₦4,250.

So, where do you lay this baby?

Since I gave birth to him, I have not been working. The only place I worked was one 'Chinco' (Chinese) company. I would keep my baby in front of the workplace where I paid them N100 with pampers and the food he would eat.



Are you ready to go back to school if you get a sponsor?

I am ready. I am tired of begging.

What kind of business do you think you can do?

I can sell food. I can do potato chips. I can make puff-puff and so many others.

How do you protect your child?

This is how I carry my baby about. I don't know anyone I can leave him with. Even when in the bathroom, I put my baby in the bathtub. It is risky to drop my baby because I don't know what anyone can do to him. I take my baby everywhere I go to.

What do you want people to do for you?

I want to go back to school. But if I won't go back, I need a job so that I can take care of my baby. I don't want my baby to suffer.
---