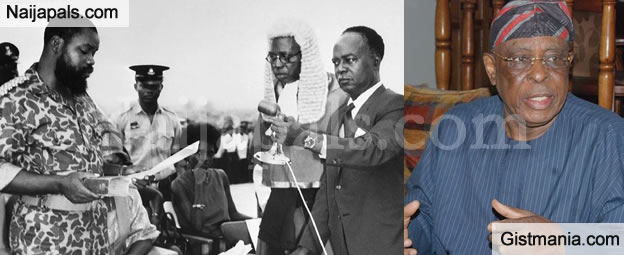 Odumegwu Emeka Ojukwu reads a speech as he declares the independence of Biafra on May 30th, 1967. Fifty-two years after the first shot of the Nigerian Civil War, one-time governor of Ogun State, Olusegun Osoba, has said the decision to secede was a "tactical error" on the part of Chukwuemeka Odumegwu-Ojukwu.

Osoba, in his upcoming memoir, 'Battlelines: Adventures in Journalism and Politics,' scheduled for presentation on July 8, 2019 at Eko Hotels and Suites, Lagos, said:

"the day he announced that secession, I wept because I saw it as the end to the massive support that Ojukwu had generated, not just among journalists, but among the generality of Nigerians."




He added: "Secession was one tactical error on Ojukwu's side. It made him lose some level of sympathy from those who believed that the Igbo had not been well-treated in terms of the massacre in the North then. The feeling that we should go back to the kind of federation conferred by the 1963 Constitution where each state controlled its resources and then contributed reasonably to the centre was strong. Then the centre collected royalties from the mineral resources that were available in those areas.
"If we had had that kind of constitution, maybe Nigeria would have been better than what we have now, because at that time, the East under Dr. Michael Opara was developing reasonably well. Opara was building road networks. The Uli-Ihiala was one of the beautiful roads that Opara built."

While saying that his generation of journalists totally supported the rebel leader on his position that the country needed to have a confederation because Nigerians generally abhorred the immoral principle of 'monkey dey work, baboon dey chop', Osoba noted that to have allowed the situation to degenerate into a civil war was most painful.
---