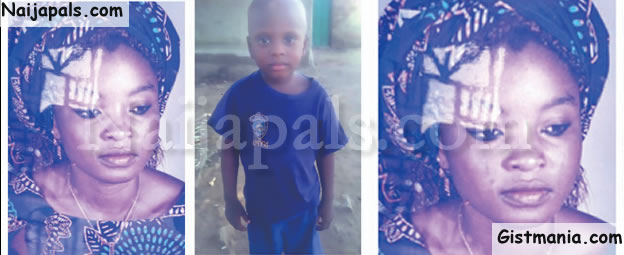 In What Will Across As A Really Heartbreaking Development, A Woman Has Thrown Her Own Stepson Inside A Well With His Legs And Hands Tied.

It was a classic case of misplaced aggression, of taking the 'sins' of the mother out on her innocent son. And, on a four-year-old child, for that matter, who knows next to nothing! And, to imagine that she saw the warning sign early enough but did nothing to save her poor son from the fate that later befell him? That thought is threatening to drown her traumatised mother's spirit in further despondency.

It must have made a shocking read when the news of the gruesome murder of four-year-old Ritse Micah was broken in Saturday Sun edition of July 13, 2019. The lad, reportedly taken from his sleep on the night of Thursday, June 27, 2019, at Garagu, Kokona Local Government Area of Nasarawa State, was dumped, with his legs and hands tied, into a well in Akwanga Local Government Area of the state. That was the state in which his body was found the following day.

Now, here is more shocking news for the reader: written confession by Mrs Grace Jacob Maisamari, stepmother to the late boy's mother, has shown that she was the one that masterminded the evil act. And, she did that not because there was anything amiss between him and the boy but simply because there was no love lost between her and his mother. Never has misplaced anger come couched in such heartless act!

How the evil deed was done
The late Ritse is the son of the daughter of the first wife to her husband, Micah Kapechi. She died many years ago after having two children for the man. Her second daughter, Miracle Micah, is the mother of the late boy said to be a love child.

It was after the death of their mother that their father decided to marry Grace who is now cooling her feet at the criminal investigation department of the Nigerian Police headquarters in Lafia after admitting complicity in the death of the boy.'

That was after devilish ideas began to fly into her head on how to cause heartbreak and maximum sorrow for his mother with whom she is in no good terms. She confessed that on that fateful day, she had pretended to travel very early to Garaku from Akwanga without her husband's knowledge or consent but she actually hid somewhere till evening. And when she noticed her husband go out with the boy to deliver a message, she quietly used her own key to open the house without anybody noticing her presence and hid somewhere in the room he usually sleeps.

Shortly afterward, her husband walked in and prepared him for sleep. But when she noticed that he had gone to his room to sleep, she quickly came out of her hiding, grabbed the boy who was deep asleep and headed to Akwanga that night, by a pre-arranged vehicle.
In Akwanga, she tied his legs and hands and threw him alive into a deep well where he died from hypoxemia. What was his offence? The woman confessed that she had no problem with Ritse. He is innocent, she admits, but her grudge is with his mother who has been rude to her since she got married to her father. "I decided to kill the innocent boy due to the attitude of his mother," she said.
---
Posted: (1 year ago) on 20-07-2019 08:37 PM | Addicted Hero