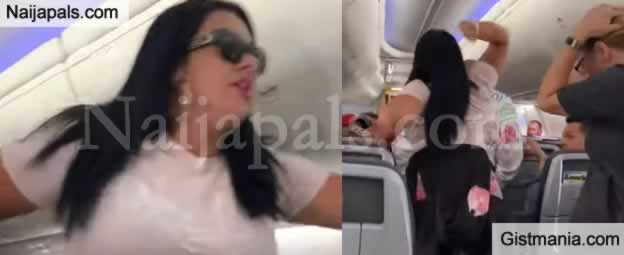 Dont Know Why Different Encounters And Scenarios happen on the plane nowadays, I hope You havent forgetten Prof Wole Soyinka's Experience On The Plane
Now Comes Another Scenario Of An american Lady Who caught her husband staring at other women on the plane and she went off, The footage, which appeared on YouTube yesterday, shows the couple arguing while still seated.
Two air stewardess stood by them apparently attempting to calm the situation but having little success.
The female flyer can be heard ranting telling the man next to her that she "wears the f***ing nuts, n****r."
She continues telling him: "You want to try to f***ing look at other women, n****r? Nah, f*** you!"
When one of the stewardesses asks her to refrain from swearing as there is a child on the plane she retorts: "Yeah, I know, I f***ing consulted the f***ing child."
She went on: "Look, I'm not gonna say nothing if you don't say nothing and try to cause a commotion, cause he's the f***ing problem."
She then hits her boyfriend, who is apparently called "Memo", and he gets up to move seats telling her, "You're assaulting me man," to which she replies, "Oh, I'm assaulting you?"
As he moves down the aisle she leaps to her feet and cracks him on the back of the head with a laptop and then starts pounding him with her fists.
As the woman is being booted off the plane, she doubles back to get her purse at which point the pilot informs her that she is going to be charged with assault.
Apparently unruffled by this revelation she replies, "Fine, whatever."
The altercation took place on an American Airlines flight from Miami to Los Angeles.

Problem with this article? Please contact us