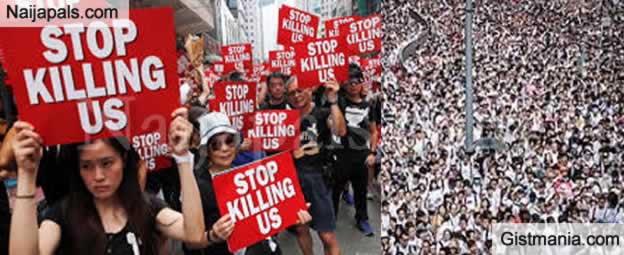 A quarter of Hong Kong population defied police orders to stage a peaceful march in Victoria Park on Sunday afternoon.
Torrential rain came down an hour into the rally, turning the park into a sea of umbrellas.
The protests were sparked by a controversial extradition bill, which has since been suspended. The bill have would allow extradition from Hong Kong to the Chinese mainland.
Critics argue that the proposal would undermine the territory's judicial independence and could be used to target those who speak out against the Chinese government.

The former British colony has a special status, with its own legal system and judiciary, and rights and freedoms not seen in mainland China.

The bill was suspended following mass rallies in June, but the protesters want it withdrawn altogether. Their current demands are:
Complete withdrawal of the extradition bill
The withdrawal of the "riot" description used about the 12 June protests
An amnesty for all arrested protesters
An independent inquiry into alleged police brutality
Universal suffrage in elections for Hong Kong's chief executive (the city's leader), and Legislative Council.

---