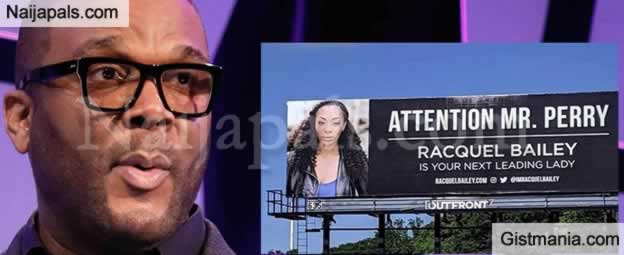 Remember Racquel Bailey, the actress who paid for $2,000 for a Billboard ad to get Tyler Perry's attention? Well, her effort paid off.

Recall that Perry scolded her for that stunt and warned other aspiring acts to never do such ever again.

"I love that you want to work with me, and I love that you invest in yourself. But when you do things like this it puts my team on high alert and makes me look at you sideways. I know the message that you want to send is a positive one, but this comes across as the opposite," he said in his response.

But it all worked out well in the end for Bailey.

According to TMZ:

"Sources close to Racquel tell us she officially got cast 2 weeks ago in TP's new show for BET called "Sistas." We're told she shot with Perry last week in Atlanta and will appear in the finale of season 1, and possibly in season 2.

Our sources say Bailey plays a police officer who had a past relationship with one of the lead characters. Perry was on set directing the episode in which Bailey will appear … a dream come true for her."

Congratulations to her!
---