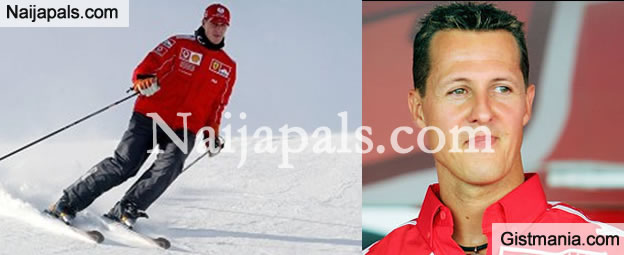 Finally, a ray of hope appears for F1 star driver, Micheal Schumacher as news outlets are reporting that he is now conscious, thanks to a revolutionary stem cell therapy by Dr Philippe Menasche in Georges-Pompidou hospital, Paris, France.

It is understood Professor Philippe Menasché was due to treat Schumacher with 'infusions of stem cells' which are designed to produce a 'systemic anti-inflammatory action.'

Professor Menasche said details of Schumacher's treatment would remain 'secret' for reasons of medical confidentiality.

On the two previous visits, Schumacher arrived by helicopter from Switzerland and landed at a heliport in Issy-les-Moulineaux, near Paris.



Quote
[/img]
Michael Schumacher was admitted to Pompidou hospital in Paris to be treated by Dr Philippe Menasche.
Dr Menasché is a cardiothoracic surgeon who, with his colleagues, has long been working on using stem cells to repair damaged hearts.
Stem cells are not yet differentiated, meaning they have the potential to develop into many of the different types of cells and tissues in the human body.
Research on them has generated both excitement - that they could repair or replace damaged parts of the body - and controversy, because the most versatile stem cells are taken from embryos.
Dr Menasché and his lab work with a variety of cell therapies to treat heart diseases and injuries.
They first focused on a type of stem cells called skeletal myoblasts.
These stem cells are not as versatile as embryonic stem cells, but have can be taken from a patients own skeletal muscle.
Scientists first started experimenting with transplanting these cells into the heart in 1995, in the hopes that they would help patients with heart disease or in heart failure to grow new, stronger tissue.
Dr Menasché's 2008 study in 2008 was one of the most well-regarded clinical trials of this method - but, ultimately, the procedure did not result in better heart function for the patients.
He has since moved on to a new technique. Dr Menasche now bioengineers tissue and uses it in combination human embryonic stem cells that are primed to become heart tissue, called cardiac progenitors.
In 2018, he published a study demonstrated that these cells could be safely transplanted into patients with failing left heart ventricles.
Dr Menasché's team aims to use their technique to treat patients in end-stage heart failure for whom more traditional treatments have failed - though it is unclear what stage these trials are now in.
Problem with this article? Please contact us
---