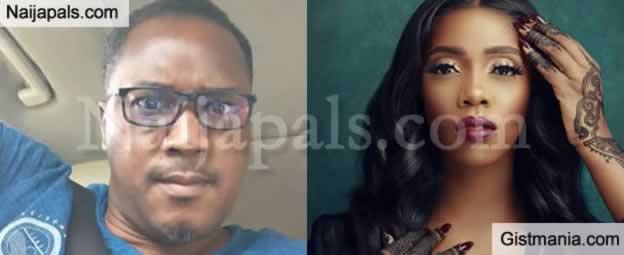 The Nigerian Twitter has been thrown into a frenzy after sports media personality, Charles Anazodo blasted popular female singer, Tiwa Salvage, for not greeting him.


Apparently, Charles Anazodo isn't happy with Tiwa Savage for walking past him without saying 'hello' to him at the radio station.


Quote

"@TiwaSavage was a guest on @THEBEAT999FM earlier today, arrived and walked past @kallyjoe and me, and didn't have the courtesy to say hello. I guess being a superstar gives you the right to be discourteous,"

he tweeted.
Tiwa Savage subsequently responded to his tweet, but she didn't take it lightly with him.


Quote

"First of all, I'm sure you saw me rushing to the studio because I was late for my interview plus I had a hat on, second I'm glad I didn't say hi because who are you to think you can't say hi first,"

she replied.
These tweets have ignited controversy in the Nigerian Twitter community with people expressing their views. A lot of people think Charles was feeling entitled while for another camp, it was all about the hilarious angle to it.

@TiwaSavage was a guest on @THEBEAT999FM earlier today,arrived and walked past @kallyjoe and i, and didn't have the courtesy to say hello. I guess being a superstar gives you the right to be discourteous.

— CharlieLeaks (@chaplinez70) October 3, 2019
First of all I'm sure you saw me rushing to the studio because I was late for my interview plus I had a hat on, second I'm glad I didn't say hi because who are you to think you can't say hi first https://t.co/Ut1x1Xup6u

— Tiwa Savage (@TiwaSavage) October 3, 2019
What happened between Tiwa & Charles just shows how much the Older NG Folks are still entitled to Greeting & see it as Pride when you don't greet. People have plenty things on their mind & might not notice you. We are adults & there are better things to worry about

— King Nonny (@Zaddy_nomso) October 4, 2019
A grown ass man with connecting beards is ranting on Twitter because Tiwa Savage did not 'greet him' and his friend.

How does the greeting add value to your personal life my g?

— JAGS (@EtniesJags) October 4, 2019
Being a woman is so hard. Imagine having the fame and talent of Tiwa Savage and a moron is standing by the door expecting you to greet him first! So weird. I'm sure if it was a Male celebrity, ma so so baba this, baba that we go dey hear. Sigh

— Rule of Law must prevail! (@Laraoriye) October 4, 2019
Posted: at 4-10-2019 05:04 PM (1 year ago) | Gistmaniac