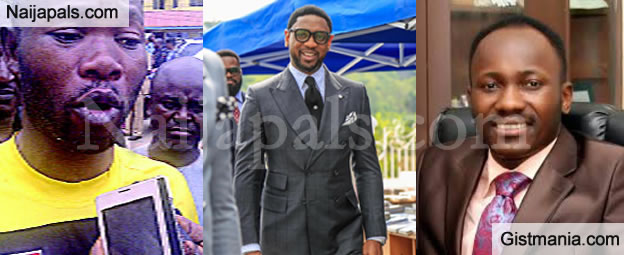 Nobody is above scandals, not even tongue speaking, fiery pastors. Many Nigerian pastors have been involved in one scandal or the other.
The most rampant is s*x scandals. One has to be careful when jumping from church seeking counsel because of those addressed as men of God are wolves in sheep's clothing. There are still pastors out there who are fulfilling their calling. The careers of most men even pastors have been destroyed by women. It did not start today and will not end today. Do not forget that Samson's downfall was because of a woman.
Over the years, some Nigerian pastors have been victims of s*x scandals. Here is a list of some of them who were at one time or the other accused of engaging in illicit affairs.

1. Apostle Johnson Suleman


Quote

The latest pastor to be accused of having an intimate relationship with a lady is Apostle Suleman, the founder of Omega Fire Ministries. Social media went into a frenzy on Monday when a lady identified as Stepahnie Otobo called out the fiery pastor, claiming he impregnated her and later dumped her. She alleged that they both spent time alone in a hotel where they had intercourse among others practices.
Apostle Suleman has denied the allegations which he said were false. According to him, he has never met with the lady before even though they had discussed about her plight in 2016.


2. Pastor Chukwuma Nkwocha


Quote

Nkwocha, the General Overseer of Tongue of Fire Restoration Ministry, was arrested in 2016 for allegedly camping and defiling about 30 under-aged girls. The Lagos state command sprung into action after receiving a report that the pastor with a church situated on Jacob Taiwo Street Oshodi was harbouring some young girls and freely having unlawful canal knowledge of them.


3. Pastor Biodun Fatoyinbo


Quote

In 2013, a blogger identified as Ese Walter boldly came out to accuse Pastor Fatoyinbo of COZA (Common Wealth Of Zion Assembly) of having an affair with her. Ese, who was also a member of the church claimed the man of God had an affair with her while in the UK. As if Ese's accusations were not enough, another lady, Franca E. who claimed to be a victim also accused Fatoyinbo of the same thing. Addressing the scandal, the man of God said he was well aware of the accusations and subsequent uproar on social networks but that he would be ignoring it.
Also, in the month of June, 2019, Pastor Fatoyinbo was accused by Busola Dakolo, the wife of ace singer, Timi Dakolo of molesting her two twice while she was barely 16 years old. As usual, Fatoyinbo has denied without any concrete explanation and the case is in court. Several other women including one that is married also confided in journalists that the flamboyant cleric nicknamed the 'Gucci pastor' forcefully anointed her with his third leg while she was pregnant.


4. Sunday Adelaja


Quote

In 2016, the founder and senior pastor of the Embassy of God, an evangelical-charismatic megachurch in the Ukrainian capital of Kiev was enmeshed in an adultery scandal following allegations that he had extramarital affairs with at least 20 women in his church.
Adelaja denied the allegations levelled against him which he said was an attempt by some people to take over the church from him.


5. Dr Sign Fireman


Quote

In 2014, reports surfaced that the church's General Overseer of Perfect Christianity Mission, Aguda, Surulere, Lagos, Ofuche Ukoha aka Dr. Sign Fireman, was involved in an alleged S*xual assault and killing of a 12-year-old girl in Badagry. The incident made him popular and almost tarnished his ministry.


6. Pastor Chris Oyakhilome


Quote

In 2014, it came as surprise when report surfaced that the founder of Believers Love World Ministry aka Christ Embassy, Pastor Chris and his wife, Anita Oyakhilome, were getting porced. Anita who filed for porce was said to have cited irreconcilable differences bordering on alleged adultery and unreasonable behaviour.
However, the pastor, according to an elder of the church, denied allegations of adultery and believes his wife was being influenced by "bad friends" who were intent on destroying their home.


7. Chris Oyakhilome's brother, Rev. Ken


Quote

Not long after the Pastor Chris porce saga, there was another report that his brother Rev. Ken, allegedly impregnated a South African lady who was a member of the Church in Randburg, Guateng, which is the headquarters of Christ Embassy, South Africa.
His reported affair with the lady was said to be an "open secret" among the parishioners. When the news about the woman's pregnancy started making rounds, church officials reportedly fudged the issue to prevent scandal. Also, the pregnancy was reportedly aborted with the knowledge of church leaders, report says.


8. Bishop Chris Kwakpovwe


Quote

In May, 2017, another 'man of God' was accused of making advances at one of his female members.
Rita Ibeni, a member of Our Daily Manna/Manna Prayer Mountain Ministry, alleged that her pastor, Chris Kwakpovwe, made segxwal advances at her.
A recording of a telephone conversation purportedly between Kwakpovwe and Rita surfaced online.
The male voice was alleged to be that of the pastor who confessed love for Ibeni and expressed interest in having segxwal relations with her.
Reacting to the viral audio clip, the church has said that the voice in the recording does not belong to their pastor.


9. Pastor Timothy Omotoso


Quote

Pastor Timothy Omotoso, a senior pastor of a Jesus Dominion International, based in Durban, South Africa is facing a string of charges including rape, segxwal assault, human trafficking and racketeering.
It is alleged in the 90-count charge that the accused, along with two accomplices, Lusanda Sulani and Zukiswa Sitho lured young girls to his church in Durban. He once tried to escape justice by trying to sneak out of the country to Nigeria. The police tracked him down and arrested him while hiding at the airport toilet in South Africa.


10. Pastor Joshua Iginla


Quote

Popular Abuja-based pastor, Joshua Iginla admitted that he and his wife, Yemisi, had children out of wedlock.
Iginla, the Senior Pastor of Champions Royal Assembly, who spoke to his congregation during a Sunday service, said when his wife brought an illegitimate child into their home, he forgave her, but that she refused to forgive him when he had his own child with another woman.
It was also in the news that the self-proclaimed Prophet Joshua Iginla married Stella Zimasa Ndamase, (his baby Mama) who is pregnant with his second child. Iginla had announced that his marriage to Yemisi had crashed because he made the mistake of having a babymama.
The Prophet however forgot to add that he married his baby mama as far back as October 2014 in a Civil Marriage. In fact, it is reported that she is carrying a second pregnancy for him. The first child is named Rhema.
The Baby Mama Stella Zimasa Ndamase Iginla who is from South Africa is whispered to be ''so rich she does not know what to do with money.''


11. Bishop Francis Wale Oke


Quote

Christian author and evangelist, Bishop Francis Wale Oke was rocked by a scathing sex scandal which he confessed to in the 90s.
The founder and presiding Bishop of The Sword of the Spirit Ministries, also known as Christ Life Church admitted to sleeping with his secretary. Rumours have it that he impregnated her and she did many abortions for him.
Wale Oke was bold enough to make confessions about his sins before his congregation and that action caused a historic setback in his ministry.
Posted: at 25-10-2019 03:13 PM (3 years ago) | Gistmaniac