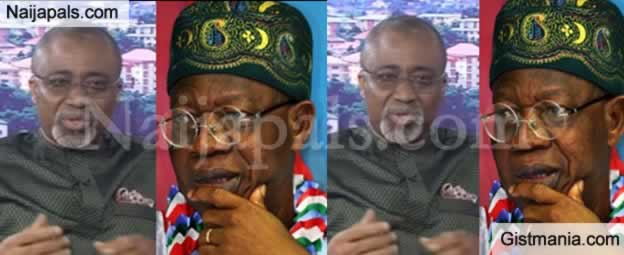 If the death by hanging hate speech law was in place during Jonathan's administration, do you think Lai Mohammed would be alive today?"- Senator Abaribe asks

Speaking on Channels TV, Senator Abaribe wondered if Lai Mohammed, would be alive if the law was enacted during the Goodluck Jonathan administration. According to Abaribe, Lai Mohammed said so many unprintable things about Jonathan when he was still President and Lai Mohammed's right to express his opinion was not trampled upon.






When asked to comment on the controversial bill, Senate Abaribe responded

In forming my thoughts, I would want to read out some things for you just to put it in context.


Quote

''A government that is unwilling to take responsibility for anything should not be counted upon. A government has repsonsibility to protect its citizens and not engage in blame game. Now this President has finally owned up to his globally acknowledged incompetence. Never in the history of any nation has incompetence and cluelessnes been exhibited by any leader as being exhibited today in this government. This government is running the country aground with a combination of incompetence and corruption. The fact of this government(sic) has nothing to do with ethnicity but a manifestation of incompetence, cluelessness and inferiority complex.

These were the words of Lai Mohammed, the Minister of Information between 2012 and 2014. I bet you that anybody who says this today, they would say it is hate speech. They would say you have called the president incompetent and they will jail you. That is why when you say you have the need to circumscribe people's rights, you should also remember the past. If a hate speech bill which advocates death by hanging was in place between 2012 and 2014 when Lai Mohammed was making these acerbic statements against the Jonathan administration, do you think he will be alive today?

The right to hold an opinion, make an opinion, is an inalienable right of every citizen of Nigeria and when somebody who used to use this, shows up today and now says no you can't do it for what he did in the past, that tells you that it's nothing but intolerance...
---
Posted: at 14-11-2019 02:08 PM (2 years ago) | Hero