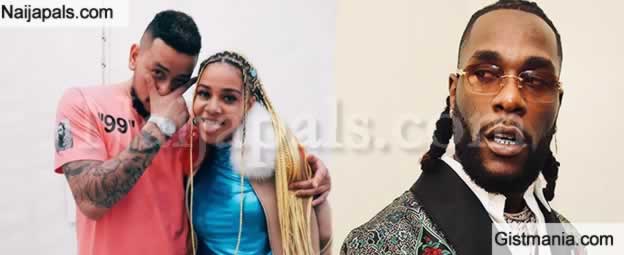 Last week, a number of South African artists under the representation of the Tshwane Entertainment Collective, made it known that they were against Burna Boy performing at the "Africans Unite" concert taking place on November 23rd.

The concert was supposed to encourage unity among Africans in the fight against xenophobia with part of the proceeds being donated to the victims of South Africa's most recent xenophobic violence.

However, following Burna Boy's heated Twitter exchange with rapper AKA during those xenophobic attacks, South African artists have been gunning for him to be banned from performing in the country.

Burna boy got a Grammy nomination after his Africans unite concert in South Africa was cancelled.

The Cancellation of Burna Boy's Concert in South Africa has raise alot of reactions, of which majority of the south african citizens are excited to hear that the show is cancelled.


Burna boy being withdrawn from the Africa unite concert is my favorite thing.https://t.co/Q0Mu4Qaj8D

— Noma. (@NormaarMsiza) November 20, 2019
You are cancelled. Soon you are going to breathe through the wound. We'll meet in the balot box pic.twitter.com/2WV5exwnDZ

— Ndi_Mojo (@ndii_mojo) November 16, 2019
[/htm] AKA, a Sout African Artist, joined the many South Africans who protested against the Nigerian star's coming for the show, because he had tweeted in September during the xenophobic attack, that he would never step his feet in SA till the government does something about it. Reacting to the news which seems to be a positive one for AKA and many others, Supa Mega says, SA doesn't joke and further shared a selfie taken with the President, Cyril Ramaphosa. [html]
Hayi no. South Ahhh doesn't play.

— AKA (@akaworldwide) November 20, 2019
November 20, 2019


Local artist Sho Madjozi also has spoken out against the "Africans Unite" organisers' motives behind the concert, following cancellation.

The "John Cena" rapper took to her Twitter account and said that the "Africans Unite" concert organisers used xenophobia as a marketing ploy rather than making a real change.

In the lengthy thread, the award-winning artist said she declined a request to perform due to Burna Boy being the headlining act since they wanted a "controversial figure".

---