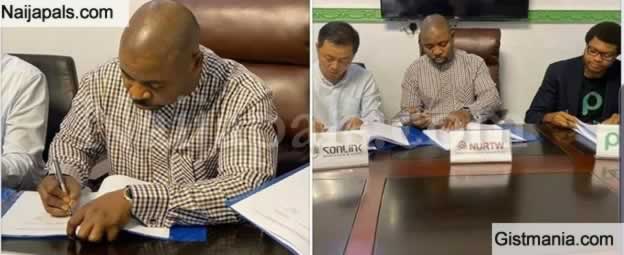 OPay is a one-stop mobile-based platform for payment, transportation, food & grocery delivery, and other important services in your everyday life. Millions of users rely on OPay everyday to send and receive money, pay bills, and order food and groceries.

OPay has been operating since 2010 in the pouch of PayCom Nigeria Limited—a mobile money platform incubated by Telnet (Nigeria) Limited.

The Company is set to introduce another platform called 'Obus' to motorparks in Lagos metropolitan city.

They signed a partnership deal with the Lagos National Union of Road Transport Worker to facilitate the introduction of the 'Obus'.

Chairman of the Union, MC Oluomo signed on behalf of Lagos NURTW.

This is like giving unto Caesar what's Caesar. No bus can load in Lagos without MC's blessing. .
10 years ago, this would have been settled by some gunshots and burnt properties and others.


---