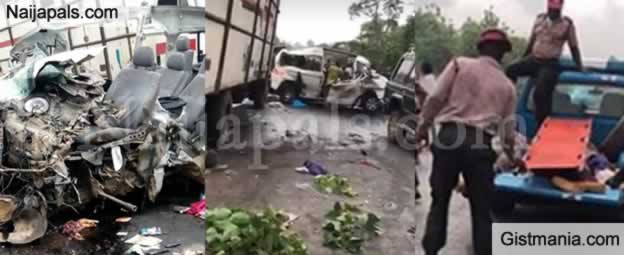 Two priests have been involved in a horrific accident which actually left one person dead in Anambra.

According to Punch Metro, an auto crash in Anambra State involving two priests has claimed the life of a 40-year-old man, Hilary Onu.

Seven others who sustained varying degrees of injuries in the accident were rushed to the hospital.

The two clerics, Emmanuel Ukwachukwu and Isaac Ugeri, who were driving a Honda Pilot Jeep and a Mitsubishi Delica bus respectively had a head-on collision.

It was gathered that the accident occurred on the Ezinifite/Uga road in the Aguata Local Government Area of the State.

The pastor driving the Mitsubishi bus was said to be carrying 14 passengers, presumed to be his church members.

The Police Public Relations Officer in the state, Mohammed Haruna, confirmed the incident to our correspondent.

He warned motorists in the state to drive with care, especially during the Yuletide.

He stated,"There was a fatal motor accident along Ezinifite/Uga road Aguata involving a Honda Pilot Jeep with registration number ABJ-618-AY driven by one Rev Emmanuel Akachukwu of No 12B Adebuonia street,Onitsha and a Mitsubishi Delica Bus with Reg number XG-179-AWK conveying 14 passengers, driven by one Pastor Isaac Ugeri of No.19 Nwaziki Street Obosi in Idemili North Local Government Area of Anambra State.

"The two vehicles were coming from the opposite direction when they had a head-on collision. As a result, seven persons including the two drivers sustained injuries.

"Police Patrol team attached to Aguata Division visited the scene and with the assistance of Red cross rushed casualties to Community Hospital, Nkpologwu where one Hillary Onu, aged 40 years of Enugu Ezike in Enugu State was certified dead on admission while others are responding to treatment."

Mohammed said the remains of the deceased were deposited at a morgue for postmortem while the case is being investigated to ascertain circumstances surrounding the incident.

He added,"The Commissioner of Police John Abang implores all road users in the state to refrain from reckless driving in order to avert accidents which could lead to loss of innocent lives especially at this critical period when the state is experiencing mass movements of people who are coming for Christmas and new year celebrations".
---