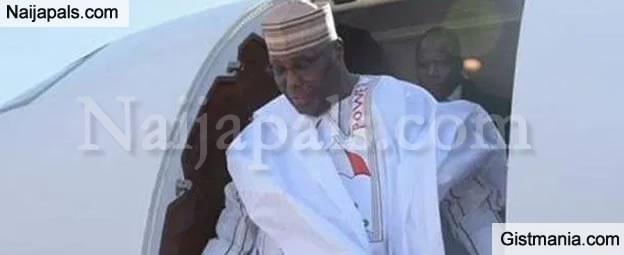 Candidate of the Peoples Democratic Party (PDP) in the 2019 presidential election, Alhjai Atiku Abubakar returned to Nigeria on Monday after seven months stay in Dubai.
Coincidentally, Monday was his 73rd birthday.

His media adviser, Paul Ibe, posted on his Twitter page picture of Atiku and his running mate, Mr. Peter Obi when the latter came to welcome him and wish him happy birthday.
But Ibe said Atiku came back to Nigeria not just to mark his birthday but to attend the seventh day prayer of his aide, Umar Pariya.
Pariya, whom Atiku described as "much more than a longstanding aide," died last week in Dubai.

Ibe said the late Pariya was with the former vice president when he was with the Nigerian Customs Service, and left with him when Atiku was "frustrated" out of the service.
"That time there was nothing like becoming Vice President. So you can see how loyal he was to him," Ibe explained.
Atiku also said Pariya "was incredibly loyal and qualified as a member of my family."

According to Ibe, Tuesday is the seventh day prayer of the deceased and Atiku would be attending it in Adamawa.
Meanwhile, PDP, in a message to mark Atiku's 73rd birthday, described him as "an exceptional patriot, quintessential democrat, leading light and incontrovertible symbol of the collective quest by Nigerians for a united, peaceful, secure, democratic and prosperous nation governed by the rule of law, equity and justice for all."

The message, which was signed by the National Publicity Secretary, Kola Ologbondiyan, regretted that at the time the nation would have been enjoying the dividends of Atiku's blueprint for economic recovery and political stability, "our citizens are rather groaning under prevailing harsh economic polices, excruciating multiple taxes, worsened security situation and degenerated poverty in the land.
---