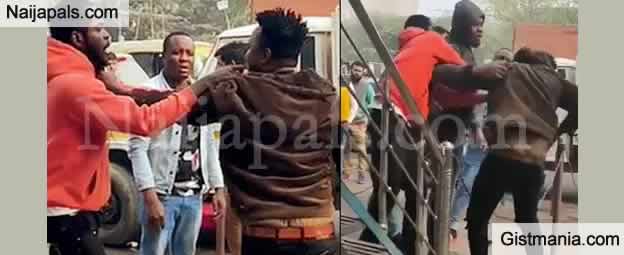 Ose and Ayuvoi, two Nigerians who have been living illegally in India for the past six years, recently staged a fightto land themselves in jail and escape deportation, Times of India reports.

However, their plan backfired when a video of the incident went viral and caught the attention of the Indian police. .
.
The incident happened on Saturday afternoon. The duo can be seen attacking each other with a big knife and a blunt object at Jagat Farm market.

The police said they realised that the fight was fake after they saw the video. "In the video they are seen attacking each other. However, not a single injury was reported. .

It seems that they staged the scene to get arrested. I have personally asked the local intelligence unit (LIU) to facilitate their deportation in the next 10 days," said Tanu Upadhyay, a circle officer 1, Greater Noida. .

Also, Charles Kennedy, a representative of an outfit working for Nigerians in India, told Times of India that the two men came to India in 2014 on tourist visas and had been living illegally since then. .

"They knew that they were illegal citizens and in order to continue living here, they probably staged this fight. I have informed police and they will be deported to Nigeria very soon," he said.

---