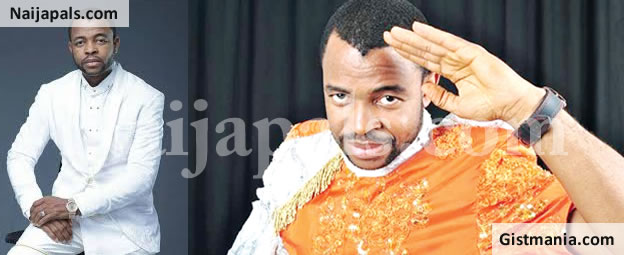 Kannywood actor, singer and dancer, Sani Danja, speaks to MOBOLA SADIQ about his career, Kannywood and other issues

Who taught you how to sing and dance?
I started dancing when I was a little boy. I used to watch foreign musicals and together with some other persons, we formed a group called Musical Youths. We were the reigning kids then. I started in the choir with them (other members of the group) because then, there was no discrimination. I am a Muslim and my father knew I usually followed them to church and they also followed me to the mosque.

How did your parents react to your choice of profession?
In the past, there were so many things one did that one had to hide. But at the end of the day, my parents had no option but to accept my choice of career. They only warned me to make sure that my education was my number one priority. They said if I didn't have good grades in school, or didn't go to school, everything would stop. Because I really wanted to dance and make music, I had to make sure I did my best in my studies.

How does it feel being called Zakin Arewa (Lion of the North)?
The title was given to me by the Emir of Nupe Kingdom, Nsi Nupe, in Niger State. The turbanning was also done in the Emir's palace because it is a real title. Prior to that, I was already being called Zakin, but not the Zakin of Arewa, because of a movie that I featured in. So, when I was giving the title, it was not a new thing for me.

Asides from being an ace Kannywood actor, are there things we don't know about you?
Apart from music and acting, I do some other businesses. I sell cars, have a photo studio and other side business. I have two non-governmental organisations, Sani Danja Foundation for Good Leadership and the Centre for Youth Empowerment and Development. I'm also an ambassador for different brands and NGOs.

Do you have any plans to go into politics?
I'm surrounded by politicians but I don't have intentions of being one. However, I support people that I think would make a change. If I support you and you get into public office, I would allow you to run your office. I don't support people because I want to lobby for contracts or favours from them. I don't collect money from them also, so they don't question me or my activities. I only lend my voice to any course I believe in.

How rewarding is it being a Kannywood actor?
I started as a Kannywood actor but the trend has changed. Now, the world is a global village and whatever one does can be seen on the other side of the world. However, I do more of English movies than Hausa movies; with a ratio of 75 per cent to 25 per cent.

People think that Kannywood actors deliberately distance themselves from their counterparts in Nollywood. What's your reaction to that?
It is a two-way thing. Things like that happen because their counterparts (in Nollywood) don't carry them along. I was once opportune to be a board member of a film corporation and I could remember that so many events were going on but they didn't carry Kannywood actors along. At a point, I had to stand up and speak about it. There was a time a list of the heroes of Nollywood was compiled but not a single actor or actress from the North was on it. That was the time we lost some popular actors in the North too and none was mentioned.

Also, Kannywood actors sometimes distance themselves because of their culture. There are some movie roles that they cannot do. Even if one has a wife or mother in a movie and she is dying, one cannot touch her. Kannywood actors don't want to act roles that require any form of intimacy,. All these factors affect the kind of relationship Kannywood actors have with their Nollywood counterparts.

Is there an organisation that forbids Kannywood actors from featuring in Nollywood movies?
Not at all. No group or organisation stops Kannywood actors from featuring in Nollywood films. Everyone is more or less on their own. When it comes to movies, it is an individual decision. I am strong-willed and I have musicals that I feature women on. Nobody will tell me what to do. People don't understand that there are certain characters that one has to incorporate in order to interpret movie scenes better.

What are the challenges affecting the growth of Kannywood?
Firstly, the movies are no longer as popular as before because of piracy. Secondly, social media has enabled people to post short trailers.

Politics is also one of the challenges affecting Kannywood, I've been to other parts of the country and I have never seen where actors are so affected by politics

Lagos is regarded as the home base of entertainment in the country. Do you wish you lived there?
I visit Lagos State very often though I don't reside there. Lagos is not just the heart of entertainment in Nigeria; it is the heart of entertainment in Africa. This is because everything about entertainment in Africa is in the commercial city. Even companies that want to run adverts would not come to the North but to Lagos. However, I don't want to live in Lagos permanently. I only wish to own a house there so that I won't always stay in hotels when I'm around. The things that happen in Lagos will not suit someone from the north so I don't wish to relocate my family permanently to the bubbling state.

Why are Kannywood actors less 'showy' on social media?
I think it's about their orientation and culture. The way our people in the north view Facebook and Instagram is not the way people tend to look at them in the south. For example, most of the northerners that have large followers on Instagram are females and some are not even actors. People tend to look more at pictures of women than that of men. For males in the north, if one wants to go by Instagram, one would miss it. Our people see social media as a place for gossip only. They don't see social media for the business opportunities it has to offer. Kannywood actors don't really like to show the extravagant side of their lives. Even if they do, it would be once in a blue moon. The northerners are conservative by nature.

Does religion dictate the roles you play in films?
My religion does not necessarily dictate the roles I play because whatever one does doesn't matter, what matters are one's intentions. Generally speaking, whatever one's intentions are determine what type of reward one would get. If one is acting certain roles to interpret certain things, the religion does not discriminate. One is only promoting one's skills. But there are boundaries though. A scene where one has to be intimate is not for my religion. For example, no matter the amount you offer some actors, they would never act the roles of cross dressers, homosexuals and the likes. Men should not act like women. I can never act sex scenes, no matter the amount I am offered. I can only hug or kiss in movies. As a matter of fact, I have even done that before.

As a movie producer, what's your take on sexual harassment in the industry?
The stories of sexual harassment are very true but they are not peculiar to the movie industry. It also happens in schools and every other industry.

However, I don't want to address this issue as a producer. I want to talk to the ladies. When somebody says he would give you a role after you have done him sexual favours, does that mean you would become a star? The answer is no. Secondly, if you're getting such offers, tell other producers or artistes so people would know. If you really want to make it in the industry, don't agree to such terms. People would not respect you if you give in to sex and tales of your sexual escapades go around other producers. Once you compromise, it becomes a case of trade by batter. In the north, most of the people that offer such are not real producers. Real producers would be scared to do that for fear of being exposed.

Do such things happen in Kannywood?
With due apologies, during auditions in places like Lagos, there are people that offer money just because they want to feature in a movie. But when you call for auditions in places such as Kano and Kaduna, the turnout is always small. People who have acted in two to three movies would not come for auditions because they think they are too big for that. What I'm saying is that desperation brings about some of these cases of sexual harassment. In the north, people don't want to talk about sexual issues at all, even if they happen, because it would give one a question mark.

What are your most unforgettable moments with female fans?
I recall once, I was coming back from a show in the Niger Republic and during the journey, our car got stuck in an area that looked like a dessert so we had to stop in a very small village. One or two people recognised us and before we knew it, a lot of people had gathered, because it was a small village. Someone took us to a place where they sold food and we ate. After eating, I was drinking from a pouch of water when I noticed some ladies. One of them asked me for water and I went to get a new one for her but she said she wanted the one I was drinking from. I obliged her but was surprised when the other ladies rushed forward to also grab the pouch from her. I was shocked at the sight because they were all struggling to drink from that one I gave the lady. This happened about two years ago.

How do you socialise?
I only socialise when I'm working. That's when one meets new people from different cultures. I also have fun when I travel with my family.

What's your favourite food?
My favourite food is amala, with gbegiri and ewedu. I also like rice and beans. I'm not a good cook though. Sometimes, I can't even eat the food that I cook.
---