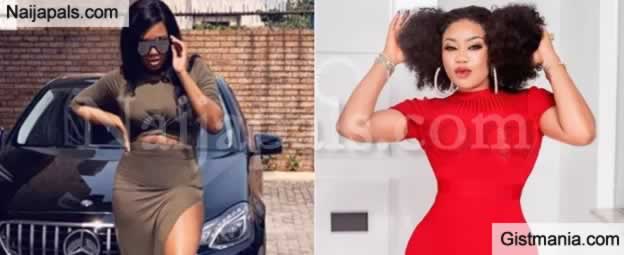 Ubi Franklin's 4th baby mama, Sandra Iheuwa has reacted to Toyin Lawani's Instagram post about women blocking fathers from seeing their kids as punishment when a relationship goes bad.



it was reported earlier that Toyin Lawani stated that women who do such can't replace a father, no matter how hard they try.

Reacting to the stylist's Instagram post, Sandra Iheuwa stated that some women do not block kids from their dads. According to the businesswoman, some men just don't want to be in their child's life, have love for them, see or hold them even at birth and after birth.

She further added that if the man doesn't want to be a participating parent, it's best he stays away as a child is better off that way.

Sandra wrote;



Quote

SOME WOMEN DO NOT BLOCK KIDS FROM THEIR DAD, SOME MEN JUST DON'T WANT TO BE IN THEIR CHILD'S LIFE OR HAVE LOVE FOR THEM TO EVEN SEE OR HOLD THEM EVEN AT BIRTH AND AFTER BIRTH……IF THE MAN DOESN'T WANT TO BE A PARTICIPATING PARENT IT'S BEST HE STAYS WHERE HE IS AND STAYS AWAY BECAUSE AT TIMES THE KIDS WILL BE BETTER OFF WITHOUT SUCH FATHER…..YOU CAN'T FORCE THEM TO PARENT. #TRUESTORY



In a rejoinder comment after being told that the man may not be avoiding the child but the mother of the child who might be dramatic, she insisted that the father is avoiding the child irrespective of how the mom behaves.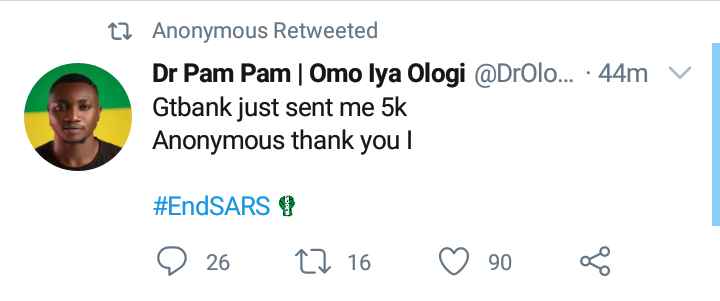 Sandra wrote;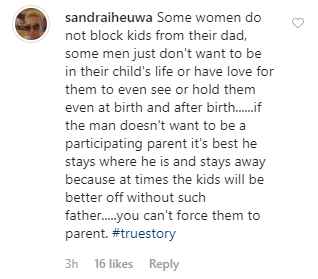 Quote
THE FATHER IS AVOIDING THE CHILD IRRESPECTIVE OF HOW THE MOM BEHAVES THERE ARE OTHER AVENUES OF SEEING OR BEING IN THE CHILD'S LIFE IF THE FATHER DOESN'T WANT TO DEAL WITH THE MOTHER FOR WHATEVER REASON. THERE IS NO EXCUSE WHATSOEVER THE FATHER CAN CALL THE MOTHER CHAT WITH HER ALL DAY BUT NEVER FOR ONCE ASK ABOUT THE CHILD OR SCHEDULE A DAY TO SEE THE CHILD. YOU HAVEN'T DEALT WITH THIS KIND OF MEN BEFORE THEY WILL CREATE EXCUSES UPON EXCUSES FOR NO SEEING THEIR OWN CHILD. IF THE WOMAN WAS DRAMATIC OR WHATEVER WHY THEN RELEASE INSIDE HER AND GET HER PREGNANT? ? IT TAKES 2 TO TANGLE. SOME WOMEN ARE NOT THE PROBLEM HERE. YOU HAVEN'T MET A DEAD BEAT AND YOU DO YOU WILL UNDERSTAND

Posted: at 26-01-2020 04:46 PM (1 year ago) | Hero