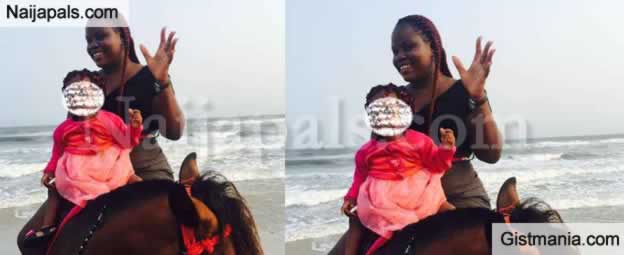 A Nigerian caterer shocked her friends when she took to Facebook to accuse her husband, Gbadebo of domestic violence.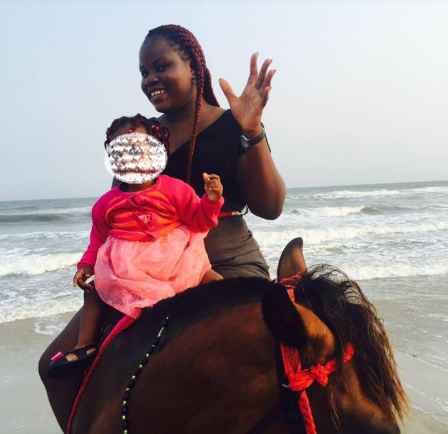 Oluwabusayo Reuben wrote on Facebook:
Quote
I think it's high time the whole world knows this just incase I pass on, so ya'll can know my murderer.
It's the man I'm married to.
He's violent and he abuses me, beats me up over the slightest provocation, I'm done in this marriage, the whole world got yo know this!!!!!
Tonight, as I came out of the bathroom, he hit my head on the wall, punched my face, my neck, almost snapped my neck all because I didn't give him money.
Every one is aware, both families are aware, the whole world got to know this, I cant take this anymore.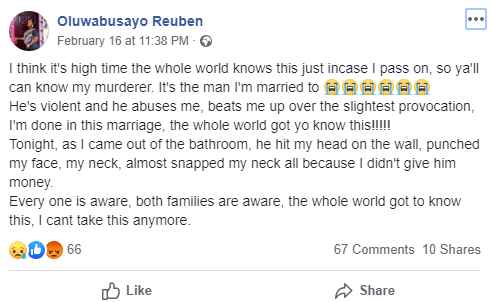 She added: "This is the last straw, I've been enduring this for over 5 years."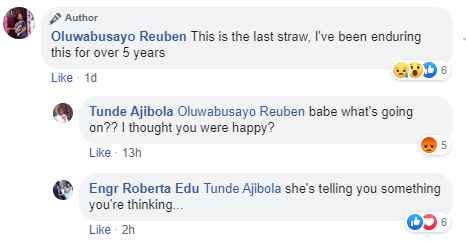 Friends were shocked and expressed it on Facebook. One mentioned that her husband is seems "cool" but that she should stay away from him until she notices a real change. Another said, "I thought you were happy?"


---