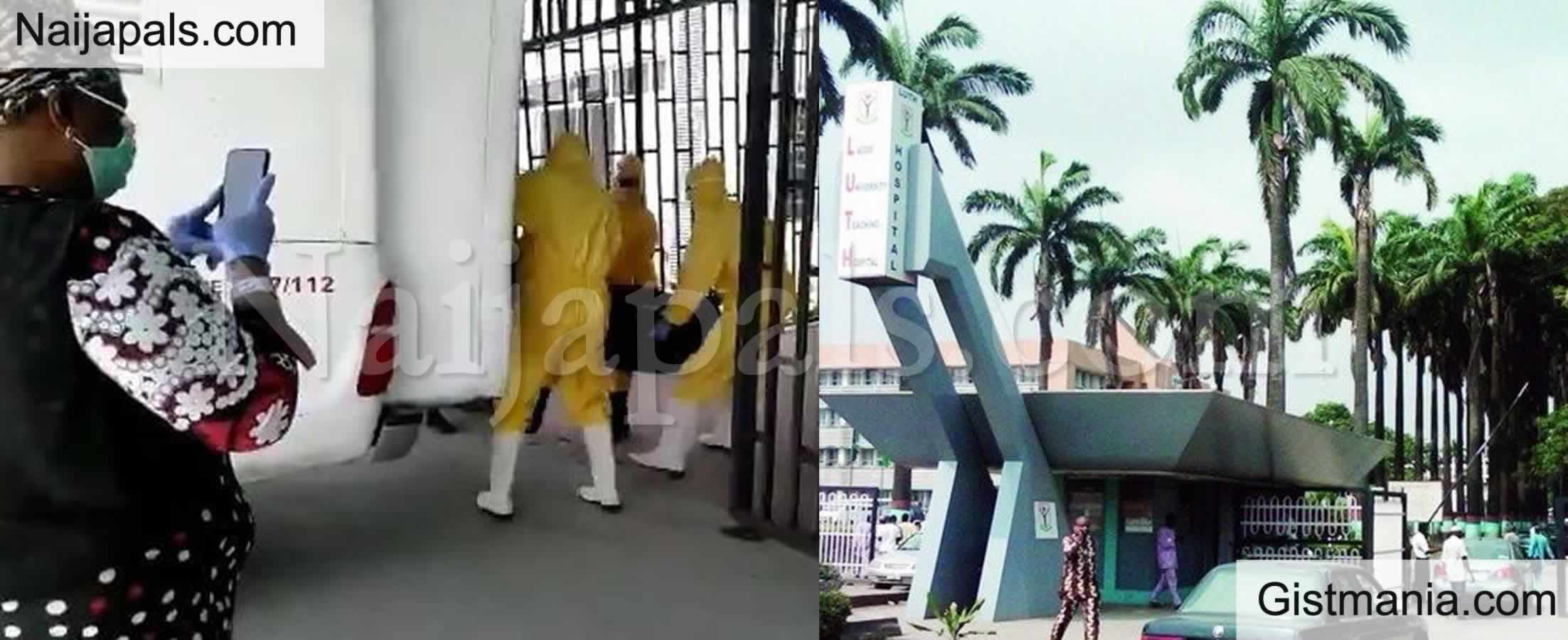 This is getting serious and now scary! A man passed on at the Lagos University Teaching Hospital (LUTH) with suspected case of coronavirus but his family had concealed very important information regarding his recent travel itinerary and symptoms from the authorities. In summary, the man died and was tested positive for Coronavirus although he had other complications such as pneumonia and diabetes. The problem is that the man has also been exposed to many healthcare workers who handled him without personal and protective equipment (PPE). Many of these healthcare workers are now at in self-Isolation at LUTH as they stand a very huge chance of having contracted the disease from the deceased. A certain insider had revealed series of information from his tweet regarding this incident:


Be safe out there people! We pray for our healthcare workers! pic.twitter.com/Bdp8RB0xqM

— Naijapals Gistmania (@Naijapals) April 4, 2020
Quote
A man came to LUTH Lagos.
Said he had only fever/tiredness.

But he had cough and just came back from Europe- but family hid that information. He died today of Coronavirus.

Many doctors and nurses exposed.

Pls DO NOT LIE when you go to hospitals. That lie can get people killed.
Quote
Doctors were exposed.
Nurses were exposed.
Cleaners were exposed.
Many innocent health workers were exposed to the man.

Safe precautions were not taken because nobody knew early enough that this was potential Coronavirus.

Pls don't lie at hospital.
Lies can kill health workers.
Quote
When you go to hospital, the truth you say is not just for your own good- it is for the safety of those health workers taking care of you.

Health workers have loved ones too.
If your lies gets a nurse killed, who will raise her children?

Pls do NOT lie at hospital.
It is evil.
Quote
Also, doctors and nurses can only treat you based on the information you give them. If you hide any vital information, it does NOT help you in any way.

You will make doctors treat ringworm when your problem is eczema.

Please do not lie at hospital.
You harm yourself a lot more.
Quote
This happened at the Accident and Emergency Unit of LUTH in Lagos. And this patient was put in the same space as many other patients.

Just imagine the same nurse or doctor that attended to him attended to other people there.

The virus may have been transferred.
This is evil.
Quote
There should be a law in Nigeria about this thing. If you lie to a health worker- or you hide vital information that puts their life at risk- you should be tried in court and jailed.

It is evil to the health worker.
It is evil to other patients who that health worker will see.

---