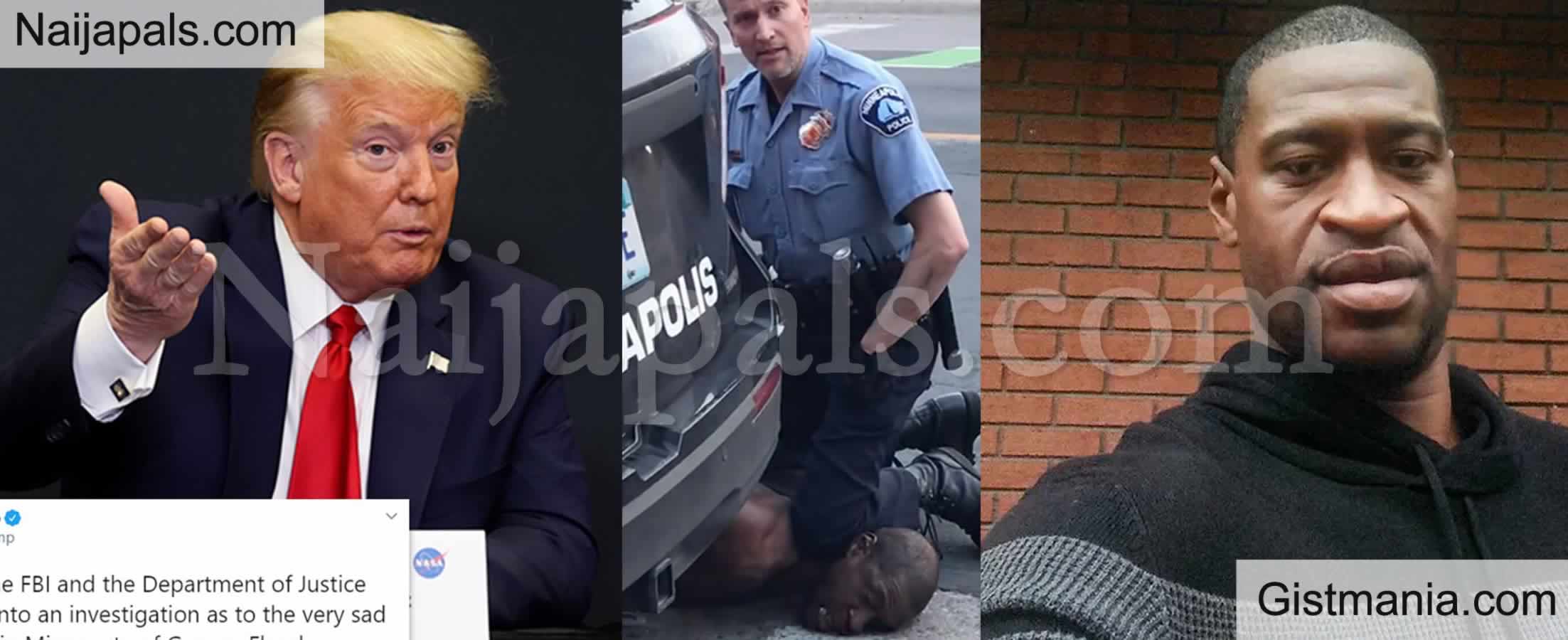 United States President, Donald Trump has lashed out at those protesting in Minneapolis over the death of a black man, George Floyd, who was murdered by the police in Minnesota

Protesters had began demonstrating at the scene of Floyd's encounter with police on Tuesday afternoon, with hundreds joining in before the crowd march towards Minneapolis Police's 3rd Precinct, which is about two miles north of the scene.

On Thursday, the protesters swarmed the Minneapolis Police Department's 3rd Precinct station just after 11 p.m. just after officers abandoned the facility.

The Demonstrators breached the door and entered the station and set fire to the police department, resulting in destruction and further upheaval.


Completely surreal. Watching the Third Precinct burn surround by thousands of people in complete anarchy. pic.twitter.com/qNVNAJIlA7

— Mark Vancleave (@MDVancleave) May 29, 2020

Standing in front of the fires burning outside the Minneapolis Police Department's Third Precinct station, the one of the protesters was heard saying:
"It's always been peaceful before. This is the first time I feel like we're actually taking action, showing our anger."
Protesters stormed the station, he said, to send a clear message:

"The police weren't welcome in their neighborhood. We can't have them back here. We gotta show them we mean business. It's as simple as that," he said,"They're corrupt, the Minneapolis Police Department."

In response, President Trump tweeted on Friday that the demonstrators were "THUGS," while suggesting military intervention and warning that there would be additional violence if looting continued.

President Trump blamed Minneapolis Mayor, Jacob Frey, for the city's Third Precinct building getting overrun by protesters who he described as "thugs".
He said the mayor needed to "get his act together and bring the City under control, or I will send in the National Guard & get the job done right."


....These THUGS are dishonoring the memory of George Floyd, and I won't let that happen. Just spoke to Governor Tim Walz and told him that the Military is with him all the way. Any difficulty and we will assume control but, when the looting starts, the shooting starts. Thank you!

— Donald J. Trump (@realDonaldTrump) May 29, 2020

"I can't stand back & watch this happen to a great American City, Minneapolis. A total lack of leadership. Either the very weak Radical Left Mayor, Jacob Frey, get his act together and bring the City under control, or I will send in the National Guard & get the job done right…" Trump wrote.

"…These THUGS are dishonoring the memory of George Floyd, and I won't let that happen. Just spoke to Governor Tim Walz and told him that the Military is with him all the way. Any difficulty and we will assume control but, when the looting starts, the shooting starts. Thank you!"
---
Posted: at 29-05-2020 11:18 AM (2 years ago) | Addicted Hero