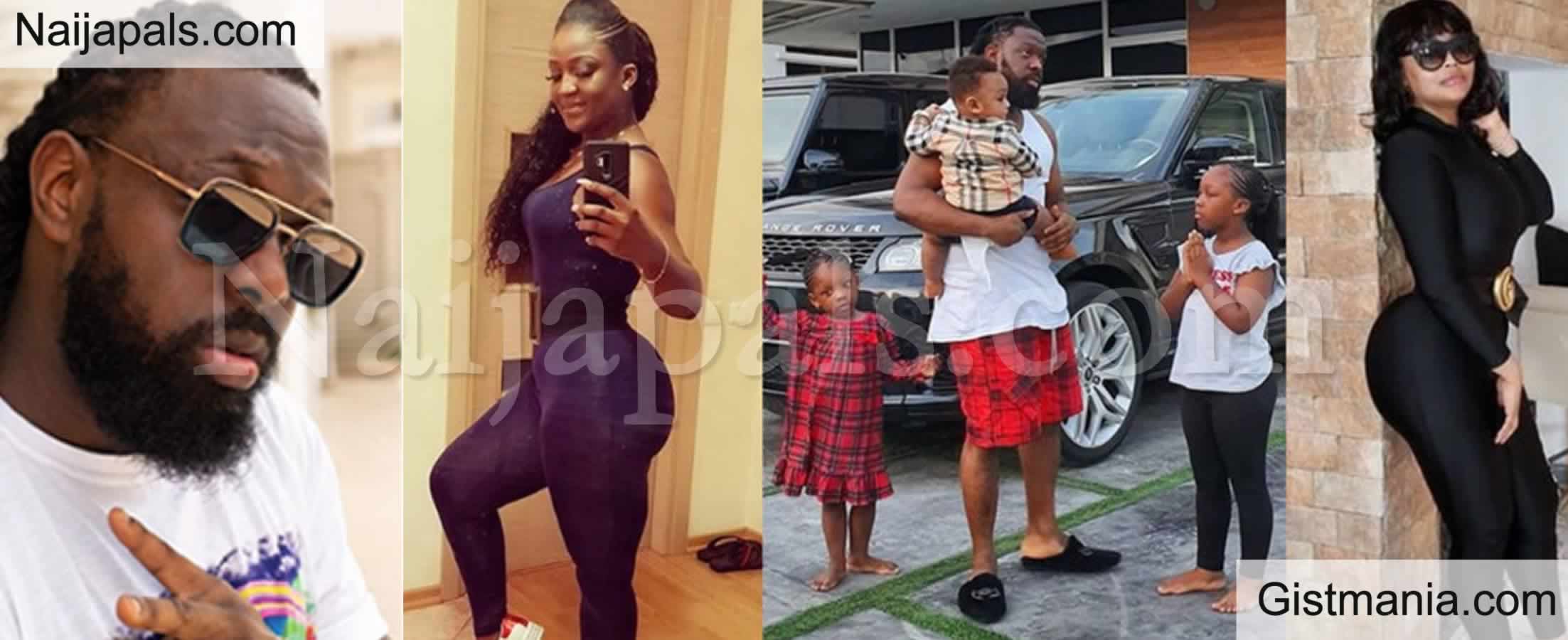 The drama that accompany male entertainers and the women in their lives all over the World are alike and Nigeria's famous dancehall singer Timaya is one of such instances in recent times.



According to blogger Stella Dimokorkous, SDK who made known the saga currently going on with Timaya's second Baby Mama and the remaining two baby mamas.

In the blogger's words:



Quote

Timaya's first baby mama who birthed his two beautiful daughters was allegedly bad mouthed out of the relationship by his friend turned second baby mama.

Then they were just friends but she used to supply info that the first baby mama was loose and sleeping around and a Ho when it was not true...Her stories took a toll of the relationship the crooner had with his first baby mama and they broke up but still kept in touch because of their two lovely daughters....



Along the line,Timayas beautiful friend who is divorced with a daughter decided she wanted him and whilst she was contracted to furnish his new home,she zeroed in and became the second baby mama birthing him his only son...

The relationship according to insiders cost Timaya a lot,he was made to cut off contact with all his friends,his manager was belittled and left,warnings were issued to all his female friends to back off ....

He practically became isolated at home without his main friends who all stayed away for reasons to do with the second baby mama..

She was gifted the Mercedes SUV;she got a room as Madam of the house in his new home and she was in charge...Insiders say she controlled everything and issued a memo at the gate that 1st baby mama Barbara should not be allowed into the house when she comes visiting with the kids....

Second baby mama wanted him to give her his name and did not let him drink water in peace.....She wanted to be Mrs Timaya and put serious pressure on him but insiders say if there one fear the crooner has,it is the fear of getting married.


One day,Timaya allegedly woke up and supposedly felt free and asked her to leave that he had had enough,she thought he was joking until she looked into his eyes and saw he was serious.........

She packed her bags and left ......

Insiders say when the crooner announced recently that he has a six month old daughter with his 3rd baby mama,the second baby mama called the 1st baby mama to apologise for what she did to her and was even screaming that if the baby was six months that means oga was cheating on her when they were together....She was in shock and 1st baby mama consoled her and allegedly said '' Na so una do me too''

Second baby mama ended up visiting the first baby mama at home and they gisted over drinks while the little boy played with his sisters.....

Timaya's relationship with his second baby mama had some advantages.....She took him to where he went under the knife to remove his popping boobs and he was placed on a diet that made him lose weight and people thought he was sick......She is the reason he looks so good and trim!


So right now Timaya and his first baby mama are friends again but not dating as she is allegedly dating someone seriously...His relationship with second baby mama is kaput while beautiful 3rd baby mama is the in thing right now.


As he always posts on Instagram ''Chulo no like trouble''..Stella no like trouble too, so all those referred to are free to deny this report if they feel the facts are incorrect...We will publish their version.Thank you.
---
Posted: at 14-12-2020 01:52 PM (9 months ago) | Addicted Hero