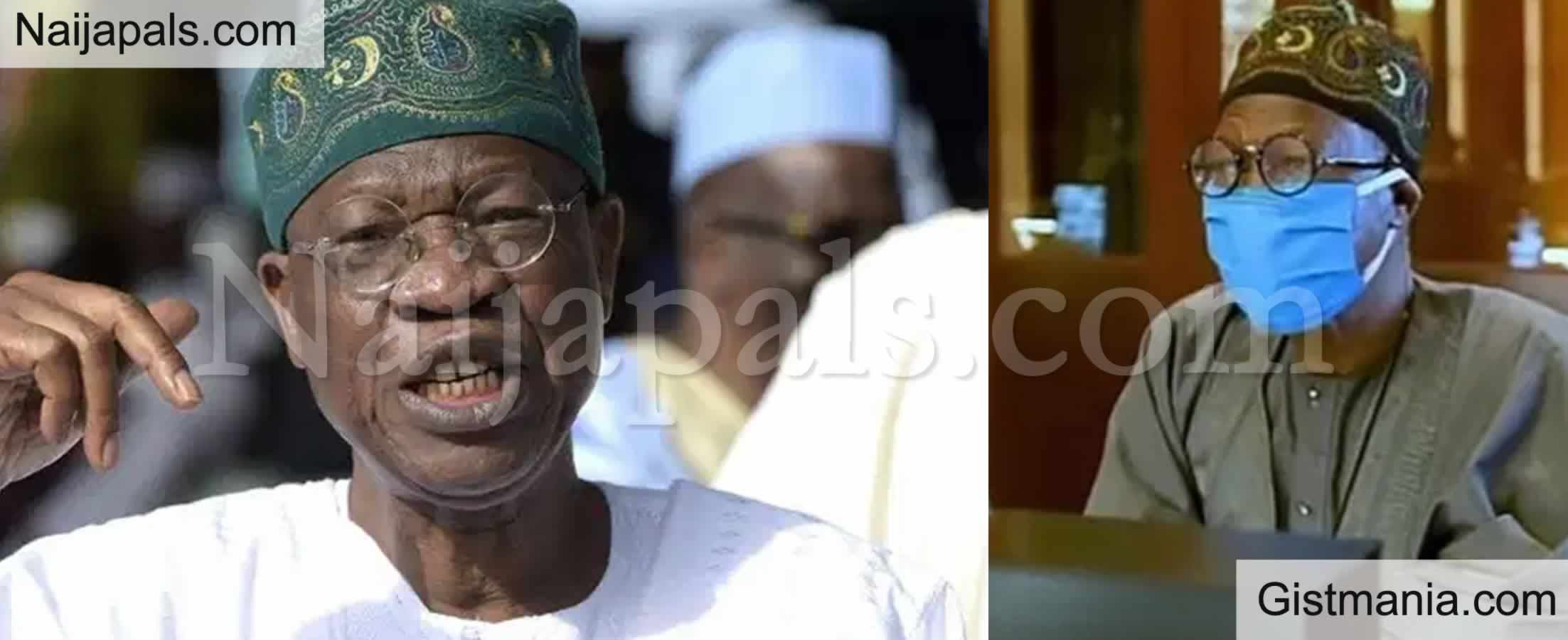 Gistmania had reported how Nigerian Soldiers allegedly opened fire on peaceful #EndSARS protesters at the Lekki tollgate, killing an unconfirmed number of persons and injuring so many others on Tuesday night, October 20, 2020.

The #EndSARS protest was held across the country against the now-defunct Special Anti-Robbery Squad (SARS) of the Nigerian Police Force over cases of brutality, illegal arrest, extortion, extra-judicial killings, among others.

During a press conference on the first anniversary of EndSARS on Wednesday, Lai Mohammed claimed that one year after the shooting at Lekki tollgate by soldiers, there is no evidence to show that any protester died.

Mohammed, who described the event at the tollgate as a "phantom massacre", said that most of the claims of killings were false and misleading as most of those who made the claims of losing people were yet to show up and give evidence a year after such allegations.

Lai Mohammed Addresses EndSARS Protest Anniversary
He said, "Today marks the first anniversary of the phantom massacre at Lekki Toll Gate in Lagos, which was the culmination of an otherwise peaceful protest that was later hijacked by hoodlums.

"At earlier press conferences, I had called the reported massacre at the toll gate the first massacre in the world without blood or bodies. "One year later, and despite ample opportunities for the families of those allegedly killed and those alleging a massacre to present evidence, there has been none: No bodies, no families, no convincing evidence, nothing. Where are the families of those who were reportedly killed at the toll gate? Did they show up at the Judicial Panel of Inquiry? If not, why?

"Sadly, the champions of a massacre at the Lekki Toll Gate, including Amnesty International and CNN, have continued to shamelessly hold on to their unproven stand. Recall, gentlemen, that after bandying different figures, Amnesty International finally settled at about 12 people killed. On its part, CNN went from 38 people killed to two to just one, after a supposed global exclusive even when the network had no reporter on ground at the Lekki Toll Gate on Oct. 20th 2020.

"On Monday, the Judicial Panel of Inquiry that was set up by the Lagos State Government after the EndSARS protest wrapped up its sitting. During the sitting, CNN was summoned but it never showed up, thus missing a great opportunity to prove its allegation of massacre at the toll gate. Also, Amnesty International had a golden opportunity to convince the world, but it rather opted for issuing meaningless press releases.

"In its latest attempt to grasp at straws and redeem whatever is left of its battered credibility on this issue, CNN has continued with its baseless report that soldiers shot at protesters. In a report currently running on the network, CNN brazenly and unashamedly held on to its flawed narrative, relying on an unidentified mother whose son was reportedly shot dead at Lekki, but without convincing evidence of who shot him dead. The same CNN that tweeted on Oct. 23rd 2020 that 38 people were shot dead at Lekki is now struggling to convince the world that one boy was killed at Lekki. What a shame!"

"With the preponderance of evidence against any massacre at the Lekki Toll Gate on Oct. 20th 2020, we are once again reiterating what we said one year ago, that the military did not shoot at protesters at the Lekki Toll Gate on Oct. 20th 2020, and there was no massacre at the toll gate. The only 'massacre' recorded was in the social media, hence there were neither bodies nor blood.

"Amnesty International, CNN, a runaway DJ and others like them should apologize for misleading the world that there was a massacre at the Lekki Toll Gate and for portraying the Nigerian military, police and other security agencies in bad light.

"CNN acted unprofessionally by relying on unverified, and possibly-doctored social media videos, as well as other open-source information, to conclude that a massacre took place at the toll gate."

The minister insisted that the military did not shoot at protesters, and that the only shooting "was in the social media, hence there were neither bodies nor blood". He said, "The federal government remains proud of the security agencies for acting professionally and showing utmost restraint all through the EndSARS protest and the ensuing violence, an action that saved lives and properties."

"The six soldiers and 37 policemen who died during the EndSARS protests are human beings with families, even though the Human Rights Organizations and CNN simply ignored their deaths, choosing instead to trumpet a phantom massacre." Meanwhile, police have arrested two persons during the ongoing car procession at the #EndSARSAnniversary protest at Lekki tollgate in Lagos State.


---
Posted: at 20-10-2021 02:41 PM (1 year ago) | Hero