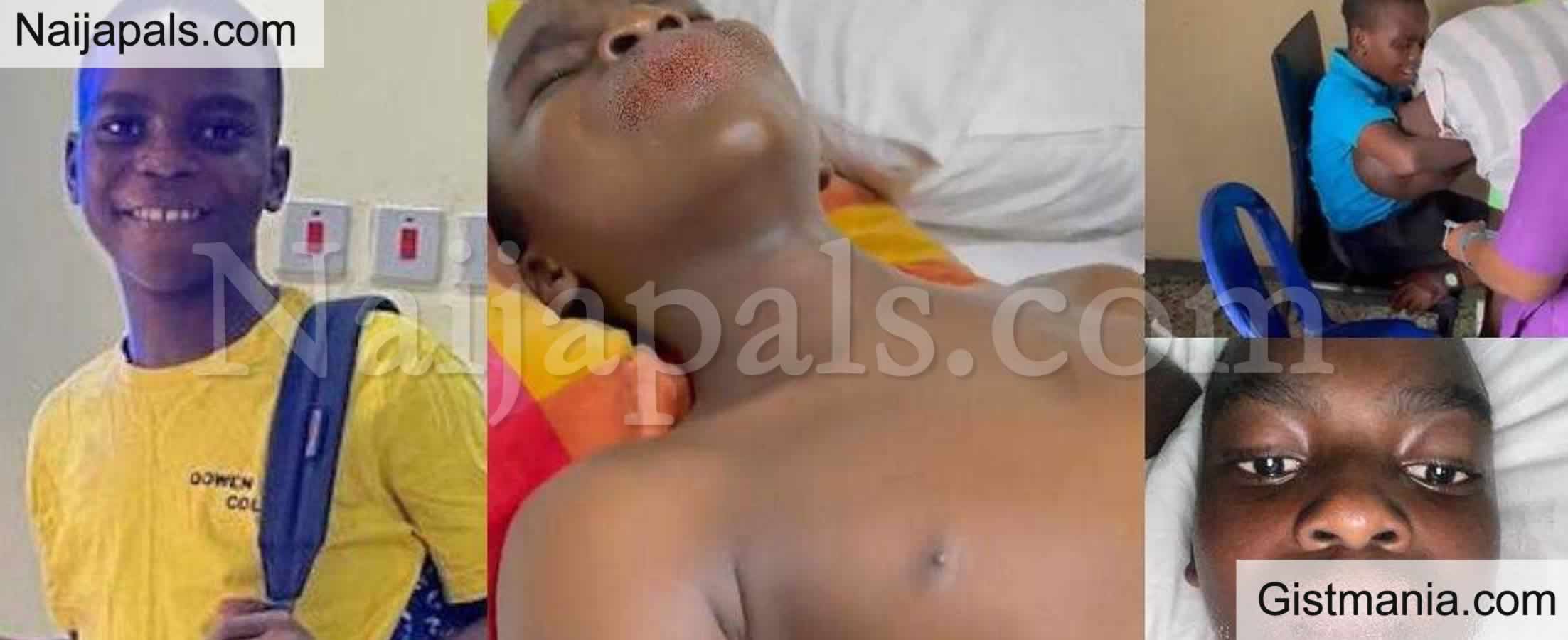 Over 140,000 people have signed two petitions on change.org demanding the swift prosecution of those responsible for the death of Sylvester Oromoni.



The petitions were started by Timi Oromoni Fabunmi, a relation of the 12 year-old schoolboy of Dowen College, Lekki Lagos and Irede Foundation, an NGO.

The latter directed its petition to Hakeem Odumosu, commissioner of Police in Lagos State.

Both petitions are drawing huge numbers, underscoring public interest in the tragic death of Oromoni, a boarding student of Dowen College, Lagos, who died on 30 November.

His death sparked an outrage and the Lagos State Government shut down the school last Friday.

The first petition on Friday started by a family member, Timi Oromoni Fabunmi is titled, 'Justice For Sylvester Oromoni Jnr'.

It has attracted over 77,200 signatures as of 5.00 p.m. on Sunday.

The petition reads:

Quote

"On Tuesday 30/11/2021 we lost our brother 12 years old Sylvester Oromoni Jnr. He was a son, grandson, brother, cousin, uncle to his little nieces, he was a friend , he meant everything to us and Yes he was only a child an innocent child . He was taken from us from in the most gruesome of manner beaten by senior 5 boys in his hostel in Dowen College lekki Lagos state. He was tortured by these boys in his school and compelled to silence otherwise they threatened to kill him.

This torture and beatings lead to injuries unimaginable and the school authorities without proper duty of care took his agony at face value and claimed he had a fall playing soccer. Without proper investigation or care they called his parents to pick him up. The family upon seeing their once healthy vibrant child knew this pains and injuries were beyond a domestic fall. The child could barely articulate words and move without these heart wrenching painful sounds.
Sylvester Jnr reported to the family he did not fall as alleged by the school. He said he was beaten and tortured by 5 senior students and mentioned their names. The students are from influential families and the school is trying to bury the case.
Sign and help us find justice for Sylvester Oromoni Jnr. It's our fight he could be your son , your brother, your cousin. #justiceforsylvester


The second petition started by The Irede Foundation with the title, 'We Want Justice For Sylvester' has attracted over 65,000 signatures by 4.30 p.m. It targets 75,000 signatories.

#JusticeForSylvester: How did 12-year-old student Sylvester Oromoni die?

The death of a 12-year-old student, Sylvester Oromoni, of Dowen College, Lekki, Lagos, sparked outrage online when it was learned that he was allegedly bullied and beaten to death by other students at the boarding school. A viral video shared by the family has shown how Sylvester was writhing in pain while bleeding from his mouth. His lips appeared swollen and his teeth looked broken.

According to one of his relatives, the deceased mentioned the names of five persons, whom he said were allegedly responsible for his injuries before he finally died on Tuesday 30.11.2021.

In its response the student's death, the Dowen College school's authorities in a statement claimed the deceased sustained injuries while playing football and was given immediate medical attention by the school's resident nurse. The school denied that Sylvester had been bullied or attacked by some students in the school and said it had carried out a preliminary investigation, where it's officials claimed that there was no case of bullying, adding that it has policies that are strongly anti-cultism.

The deceased, according to his parents in media reports had also alleged that he was given a substance to drink by the 'bullies'.

The efforts by the school's administrators are not enough and authorities are silent. Investigations must be done to discover what really happened to Sylvester.

1. Did the school do enough to protect Sylvester?
2. How were the injuries that led to his death sustained?
3. Was the school negligent in protecting its students?

There are so many questions and not enough answers.

We need the police to act immediately and investigate the circumstances and events that led to his death. We're asking the Lagos Commissioner for Education, Folashade Adefisayo and officials of the Lagos State Universal Education Board, and the Federal Ministry of Education to probe allegations of bullying and negligence?

We're asking for a thorough and transparent investigation and prosecution of those found to be culpable in this tragic incident.

Social protection is particularly important for children, in view of this crime, we also throw in our concern for children with disabilities to ensure the protection of children is inclusive of them.

Justice must be served and seen to be served for 12 year old Sylvester and his family.
Posted: at 5-12-2021 05:37 PM (1 month ago) | Hero