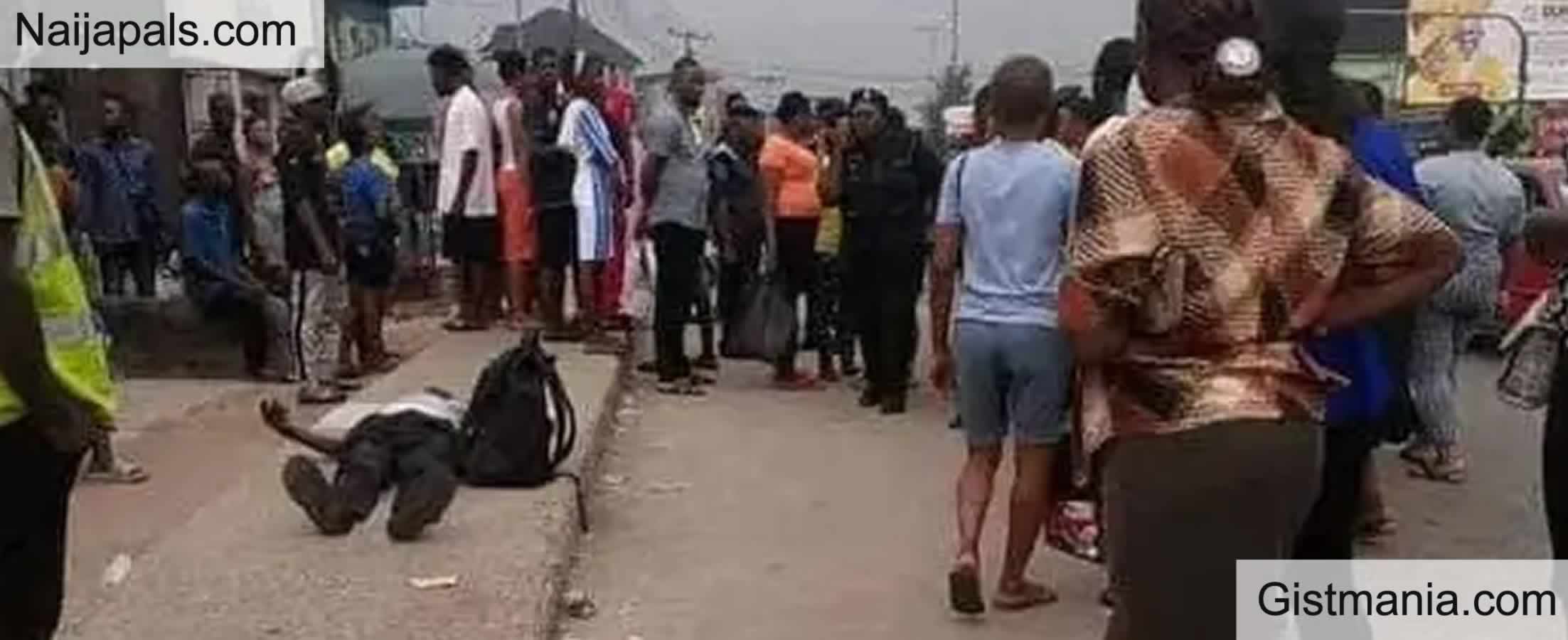 A hypertensive patient, Simon Maduekwe, has died from the shock he suffered after suspected political thugs invaded his residence on Fatomi Crescent, Off Bajulaiye Compound, Shomolu, Lagos State, while pursuing a yet-to-be-identified man using his mobile phone to capture their violent actions at one of the polling units in the area during the state governorship and state house of assembly elections.

The late Maduewke and other residents of the area came out to cast their votes for their preferred candidate. As voting was ongoing, it was learned that some suspected political thugs started creating tension and warned the voters against voting for another candidate other than their preferred candidate. However, after he cast his vote, the late Maduekwe left the polling unit for his house.

His son, Chuka, said his late father was at home when one of the political thugs, while subjecting some of the voters to different forms of intimidation and suppression, spotted a resident capturing the moments on his mobile phone. The political thug, thereafter, raised the alarm which attracted the attention of his accomplices and Chuka said they gave the resident, who firmly held onto his phone, a hot chase. In a desperate attempt to escape, the aggrieved son said the yet-to-be-identified resident ran into his father's residence, adding that thugs chased after him.

Chuka explained that Maduekwe, who was not aware of what had transpired outside his home, upon sighting the thugs on his premises, thought they were there to attack him for voting against their preferred candidate, adding that his father slumped at the sight of the hoodlums coming towards him.



Quote

"My dad had gone to vote as early as 8am because the polling unit was in front of our compound on Fatomi Crescent, Off Bajulaiye Compound, Somolu, Lagos State. That morning, there was noise at the polling unit as suspected thugs were threatening people to vote for their party, and scaring away those not willing to do their bidding. We also heard them shouting at a particular guy making a video of them. When they sighted the guy, they started chasing him, so he ran straight into our compound, and into our apartment. My dad was standing at the door and as the guy and the thugs ran towards him, he collapsed.

Immediately, we tried to revive him but couldn't, so, we rushed him to the Somolu General Hospital and a nurse confirmed to us that he was dead. My dad had high blood pressure and has not been doing business for over a year as we have been doing all to keep him alive but he died because of the incident during the election."he said

Chuka, while lamenting over the incident, said his mother had been traumatized by the development.

"My family has been mourning over the incident. My mum is just trying to get hold of what happened, we never anticipated that this election will take him away from us,"

he said.

An eyewitness, Samson Duru, described Maduekwe, 68, as a peaceful man who always warned youths against illicit activities during the election period, adding that the deceased was among the people cautioning the thugs against tampering with the election process in the area.

"The man was shouting at one of the thugs to leave the polling unit and allow people to vote for the candidate of their choice before he left for his house. The whole incident happened some minutes after. He is such a peaceful man who does not like trouble; I pray that his family will be able to bear their loss."

The state police command is yet to comment on the development.
Posted: at 23-03-2023 08:40 AM (2 months ago) | Addicted Hero