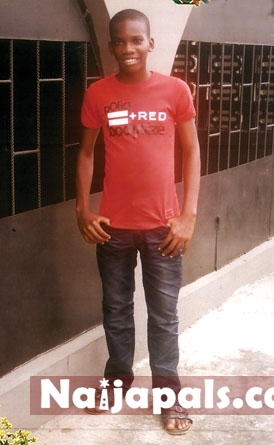 While the SS3 pupils of the Government Model College, Kankon, Badagry, Lagos, write their West African School Certificate exams this year, one person – Richard Ejiofor – will be marked absent at the examination hall. The 16-year-old science pupil was discovered hanging from an uncompleted building in the school last week.

I was at work on April the 6th when I got a call from the Vice-Principal (Administration) of the school. He asked me where I was and said I should start coming home. He didn't say anything more," Roselyn, Richard's mother, told CRIME DIGEST. "I asked him what the problem was, but he just said I should come home. I called my son's guardian at school and asked him if there was a problem, but he didn't say anything was amiss. So, I told my boss what happened and began the journey home; my office is at Apapa."

Before she started her journey, Roselyn called her husband, Henry, who was in Port Harcourt and informed him of what was happening. "When my wife told me she got a call from Ejiofor's VP asking her to come home, I knew something was wrong. I asked her to text me the VP's number and I called him immediately I got it. I identified myself as Ejiofor's father and asked what the problem was, but the VP would say nothing. It was when I told him that I was a police officer that the VP handed over the phone to a police officer, who was with him at the time. It was this policeman who told me that my son, Richard, was dead; he had been found hanging from an uncompleted building that morning.

"Immediately, I thought of my wife who was on her way home and unaware of what had happening. I started calling all my relatives to go home and be with her. I also called her boss and informed him too," Henry says.

Meanwhile, Roselyn, who was still on her way home at Ketu – Ijanikin, got another call from the VP, who asked her to proceed to her mother-in-law's house instead. "I was surprised when he said that and asked why I was going to my mother-in-law's house instead of mine; both homes are just are few houses apart. Eventually, when I got to my mother-in-law's house, I noticed there were many people there. The VP, Richard's school guardian, a school nurse, a permanent secretary from the Ministry of Education and some whom I couldn't remember now were all there, waiting for me," Roselyn says.

The VP began by telling the already apprehensive mother that Richard had fallen critically ill that morning and had been rushed to the school's sick bay. "He told me Richard was transferred to the Badagry General Hospital when his condition didn't improve. At the hospital, his condition became horrible but that the doctors did all they could. It was at this point I realised that he was trying to tell me Richard was dead," Roselyn says, fighting back tears. She was to learn the actual manner of Richard's death later.

Henry, however, has rejected the school's theory of suicide. "Richard was not suicidal; that boy was murdered. The school claimed that he was found by his schoolmate who had come out of the hostel at about 5 am to pack his clothes, hanging from an uncompleted building. They also said it was his classmates who brought down his body. How did my son get out of the hostel when they are usually locked in by a house master at night? His guardian told me that he had checked on Richard at the hostel the night before and saw him. Besides, my son's corpse still has his school uniform, socks and shoes on it. If he really hanged himself in the middle of the night, would he still be in his school uniform at that time?" Henry asked. He described Richard as a happy child, who did not keep so many friends. "We're waiting for an autopsy to determine the cause of the death. I want to know what really happened; I want justice."

The VP could not be reached for comments as his phone was switched off. At the ministry of education Alausa, the PRO Mr. Bakare referred CRIME DIGEST to the Deputy Governor's office for the ministry's official response.

Mrs. Toun Oladapo the Chief Press secretary to Lagos State Deputy Governor Mrs. Sarah Sosan told CRIME DIGEST that an official response would be made available to SATURDAY PUNCH. As at the time of this publication, the response had not been received.

Both parents, however, can't recall Richard having problems with anyone at school. "The last time he came home, Richard told me a classmate owed him N1,500. I wasn't happy and urged him never to lend such a sum out because it might not be easy to get it back. Besides, he has never mentioned any serious problem with anyone. I spoke to my son on Monday, two days before his death. He called me from a pay phone at school to remind me about his visiting day, which was Sunday the 10th. He wanted me to bring provisions. I didn't know that was the last time I would hear his voice," Roselyn says.

"We have also not been able to speak with any of his friends. You know it is a boarding school and they are still in session," Henry says.

When CRIME DIGEST contacted the Lagos State Police Public Relations Officer, DSP Samuel Jinadu, he said police investigations revealed foul play.

"The police have reasons to suspect a foul play in this case. It was said that the deceased had hanged himself with his school blanket, but there was no sign of struggle on the corpse as is expected in a suicide; there were no blood stains on the blanket either. The matter has been transferred to the SCID Panti for discreet investigation and two members of staff have been arrested," Jinadu said.
---
Posted: at 16-04-2011 01:04 AM (10 years ago) | Gistmaniac